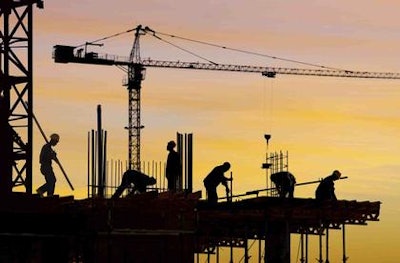 NEW YORK — The value of new construction starts settled back 4 percent in October to a seasonally adjusted annual rate of $589.8 billion, according to Dodge Data & Analytics (formerly McGraw Hill Construction). The decline followed the 10 percent increase reported in September, which was the strongest month for total construction starts so far in 2014. Both nonresidential building and nonbuilding construction lost momentum in
October, while residential building posted a moderate gain given further growth for multifamily housing. During the first 10 months of 2014, total construction starts on an unadjusted basis were $475.8 billion, up 5 percent from the same period a year ago.
The October statistics lowered the Dodge Index to 125 (2000=100), compared to a revised 129 for September. October's reading for the Dodge Index was the same as the 125 average for the third quarter and above the 117 average for this year's January-September period.
"Recent months have shown an up-and-down pattern for construction starts around what is still a rising trend," stated Robert A. Murray, chief economist for Dodge Data & Analytics. "Nonresidential building is making a more substantial contribution this year to the construction expansion, notwithstanding its November decline. Various factors affecting activity for this sector continue to be positive. Market fundamentals such as occupancies and rents are strengthening, the investment community is turning increasingly to real estate development, and more construction bond measures are getting passed, including several substantial school construction bond measures that achieved passage in Texas during the most recent election. This year's retreat by nonbuilding construction has stayed measured, helped in the near term by the recent $10.8 billion 'patch' to the Highway Trust Fund, although the month-to-month performance for nonbuilding construction still reflects the swings shown by the volatile electric utility category. The continued growth for residential building in 2014 is being led by multifamily housing, featuring groundbreaking for numerous multifamily high-rises in major cities, while single family housing remains stalled for now."
Nonresidential building in October fell 14 percent to $195.2 billion (annual rate), following its 13 percent jump in September. The institutional building group, after especially strong activity in September, pulled back 19 percent. The amusement and recreational category in September had been lifted by the start of such projects as the $948 million Atlanta Falcons stadium in Atlanta GA and a $717 million casino in the Washington DC area. While October did include the start of the $300 million arena for the Sacramento Kings in Sacramento CA, the comparison to the exceptional volume in September produced a 57 percent decline for the amusement and recreational category. Educational facilities in October slipped 5 percent, easing back from earlier gains, although the latest month did include groundbreaking for a $201 million University of Texas research center in Austin TX. Other educational facilities projects that reached groundbreaking in October included three large high schools, located respectively in Houston TX ($128 million), San Antonio TX ($111 million), and Casper WY ($102 million). October declines were also reported for transportation terminals, down 16 percent; and public buildings, down 23 percent. The healthcare facilities category in October was able to rise 11 percent, with support coming from the start of a $200 million hospital in Buffalo NY and a $172 million medical center in Austin TX. Church construction, while still at a very depressed level, improved 17 percent in October.
The commercial building group in October held steady with its September pace, reflecting a mixed pattern by project type. Store construction grew 12 percent, lifted by a $150 million mall expansion in King of Prussia PA, while warehouse construction advanced 31 percent. Office construction in October slipped 7 percent, although the latest month did include groundbreaking for several noteworthy projects - a $300 million Facebook data center in Altoona IA, a $250 million office tower in San Francisco CA, and the $132 million office portion of a $195 million office/hotel mixed-use tower in Seattle. Hotel construction in October experienced a similar decline, sliding 8 percent. The manufacturing plant category in October dropped 36 percent, retreating after its 104 percent surge in September that featured the start of a $1.3 billion methanol plant in Louisiana. Even with its October decline, the manufacturing plant category did include groundbreaking for several massive projects, including a $618 million wing assembly plant for Boeing in Everett WA and a $350 million solar photovoltaic cell manufacturing plant in Buffalo NY.
Nonbuilding construction, at $148.7 billion (annual rate), decreased 9 percent in October. Most of the decline was due to a 67 percent plunge for electric utilities after unusually strong activity in September. The latest month did include the start of one major electric utility project, an $850 million natural gas-fired power plant in Ohio, but this was in comparison to several projects of even larger scale that were entered as September starts. The public works group as a whole increased 8 percent in October, showing further progress after a 25 percent increase in September. Highway and bridge construction in October climbed 27 percent, supported by the $598 million Northwest Corridor project in Atlanta GA. Through the first ten months of 2014, the top five states for highway and bridge construction starts were Texas, California, Pennsylvania, Illinois, and Ohio. States ranked six through ten were Florida, New York, Georgia, North Carolina, and New Jersey. Sewer and waste disposal projects soared 80 percent in October, boosted by the start of an $800 million carbon capture facility in Texas, while water supply projects improved 20 percent. Public works categories that declined in October were river/harbor development, down 22 percent; and miscellaneous public works, down 32 percent. The miscellaneous public works category had been lifted in September by a large light rail project in Los Angeles and a natural gas pipeline in Arizona. Although activity for this category was substantially lower in October, it did include $575 million for the start of renovation work on Wrigley Field in Chicago.
Residential building in October grew 11 percent to $245.9 billion (annual rate). After sliding 20 percent in September, multifamily housing had a particularly strong month in October, climbing 40 percent. There were 11 multifamily projects valued at $100 million or greater that reached groundbreaking in the latest month, with the top three as follows - a $433 million high-rise in New York City, a $272 million high-rise in Brooklyn NY, and a $200 million high-rise in Miami FL. Through the first ten months of 2014, the top five metropolitan areas for multifamily construction starts (in dollars) were New York City, Miami, Washington DC, Los Angeles, and San Francisco. Metropolitan areas ranked six through ten were Boston, Dallas-Ft. Worth, Philadelphia, Seattle, and Houston. Single family housing in October was unchanged from its September pace, further extending the essentially flat pattern of activity that's been present since the end of 2013. In October, weaker single family construction was reported in the Northeast, down 5 percent; and the South Central, down 2 percent; while gains were reported in the West and South Atlantic, each up 2 percent; and the Midwest, up 3 percent. Murray indicated, "Despite very low mortgage rates, with the 30-year fixed rate hovering around 4.0 percent, it still remains difficult for first-time homebuyers to get a mortgage. On a hopeful note, the latest survey of bank lending officers by the Federal Reserve did show some easing of mortgage lending standards during this year's third quarter, maintaining the trend towards slight easing that began in the spring."
The 5 percent increase for total construction starts on an unadjusted basis during the first ten months of 2014 was the result of mixed behavior by the three main construction sectors. Nonresidential building advanced 14 percent year-to-date, with each of its three components registering growth - commercial building, up 14 percent; manufacturing building, up 52 percent; and institutional building, up 5 percent. Residential building improved 7 percent year-to-date, with single family housing up only 2 percent while multifamily housing jumped 25 percent. Nonbuilding construction fell 8 percent year-to-date, with public works down 7 percent and electric utilities down 14 percent. By geography, total construction starts during the January-October period of 2014 showed growth in all five regions - the South Central, up 13 percent; the South Atlantic and the West, each up 4 percent; and the Northeast and the Midwest, each up 1 percent.