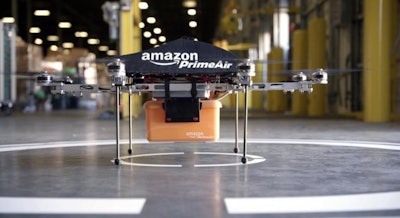 A top Amazon.com official told lawmakers on Wednesday that federal regulators should act "expeditiously" to develop rules regulating the e-retailer's proposed drone delivery service.
Although the large-scale delivery of parcel packages via drone likely remains years away, Amazon Vice President of Global Public Policy Paul Misener told the House Oversight Committee that the company "will have it by the time the regulations are ready."
"Not only do we think our customers will love this service, we believe it will benefit society more broadly," Misener said.
Seattle-based Amazon unveiled its Prime Air project in late 2013. The program aims to deliver packages of up to five pounds to customers' doorsteps in 30 minutes or less.
The program, however, ran into a series of regulatory hurdles its development progressed. The company waited six months for Federal Aviation Administration approval of a test drone, only to see that particular prototype become obsolete. In response, the company began testing just across the U.S.-Canada border in British Columbia.
The FAA subsequently issued new guidelines for unmanned aircraft and an expedited process for new FAA waivers.Those rules, in part, required drones to be flown during daylight and at elevations of 400 feet or less, and said that the crafts must remain within the operator's line of vision.
Misener told committee members that those types of categorical restrictions "make no sense and must be avoided." He said the vehicles would be highly automated and that an operator should be able to control multiple drones at the same time.
In addition, Misener said that because the drone program would involve many jurisdictions, the federal regulations must create uniform standards that pre-empt state and local governments. He added that safety was the company's "top priority" and stressed that Prime Air would strictly be "a future delivery service, not a surveillance operation."
FAA Deputy Administrator Michael Whitaker told the House panel that although more research is needed before the agency authorizes the widespread use of commercial drones, its regulations should be finalized within a year.
Committee members from both parties, meanwhile, lauded the potential impact of drone technology while expressing wariness about its impact on aerospace safety and consumer privacy.
"There will be an incident. There will be a crash. There will be probably fatalities because you have so many of these things flying," Rep. John Mica, R-Florida, said. "I hope it doesn't take down a big commercial aircraft. I hope it doesn't have a lot of fatalities but I think it's inevitable."