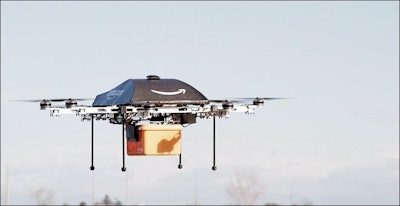 Amazon.com will be able to test its new drone delivery service in U.S. airspace after all.
The Federal Aviation Administration last week granted an exemption to the Seattle-based e-commerce giant, which would enable testing of Prime Air drones limited to 400 feet in elevation and speeds of 100 miles per hour.
Tests would also need to fly only over private property, during daylight and within an operator's direct line of slight at all times.
Amazon hopes its Prime Air program will eventually allow drones to quickly ship packages of up to five pounds across distances of more than 10 miles. But the company told lawmakers that regulatory hurdles held up testing of its equipment.
The FAA previously authorized a different Amazon test drone last month, only to see the company declare that the model became obsolete while waiting six months for approval. Amazon instead began testing drones just over the border in British Columbia.
The FAA, meanwhile, this week issued new guidelines for unmanned aircraft that, in part, said the agency could issue a "summary grant" if an application mirrored a previously granted exemption.
Amazon officials said the exemption will enable Prime Air deliveries "safely and soon" in the U.S.
Some pilots' groups, meanwhile, called for stricter licensing requirements for drone operators and suggested drones could cause problems for crop dusters and planes in high-traffic areas.