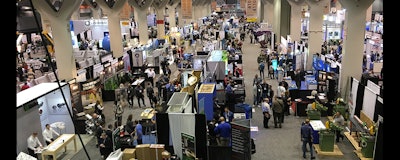 Are industrial trade shows still a worthwhile investment for distributors, manufacturers and service providers?
It's an important question to ask. As buyers in the manufacturing, oil & gas, and distribution sectors continue to trust online channels for the products and services they need, what role do industrial trade shows play in the modern industrial sales cycle?
We at ActiveConversion kept this question in the back of our minds during our time at the annual Global Petroleum Show as we spoke to manufacturers and service providers in the energy sector to learn about the role of trade shows for their business and some of their keys to success.
So, our verdict, are trade shows still a worthwhile investment? Yes, if done correctly.
Correctly, in this case, means recognizing that trade shows have changed.
Buyers conduct research online prior to industrial trade shows and generally know which businesses they want to speak with before attending.
Showing up and expecting sales to be like shooting fish in a barrel is no longer the reality. To address this, the businesses we spoke with at the Global Petroleum Show suggested a few simple strategies that can help businesses succeed in the modern era of industrial trade shows:
Do Your Research
Sitting back and waiting is a recipe for failure. Instead, prior to the show, make a list of the businesses you would like to speak with. If you are interested in selling to other exhibitors, study the exhibitor list that is made available before every trade show. If you are more interested in the attendees, ask if the event organizers if they provide a list of registered attendees in advance.
If not, build your own lists by gathering contact information from your own database about buyers in a particular region or industry who are likely to be attending the show. If possible, use LinkedIn to learn the names of people within each organization who are likely responsible for purchasing the products or services you sell. Even if that person isn't at the show, asking for someone by name is a good conversation starter with whichever company representative is at the show.
Reach Out Before Industrial Trade Shows
Once you know who you'd like to speak with, it is important to let them know that you are actually going to be at the show. Email is the easiest way to do this on a mass scale.
We recommend sending two emails in the weeks leading up to the show. One about two weeks before the event to let people know you will be at the show. Be sure to include the booth number you will be exhibiting at and information on any draws or giveaways you will host to give them an incentive to stop by. The second should be sent a day or two before the event. It should be a final reminder of your booth location and provide the names of a few staff who will be working the booth.
Prospects feel more comfortable if they have someone specific to ask for and don't have to go into your booth blind.
Timing Is Everything
Trade shows are busy events, so it is important to stay top of mind with the prospects you want to speak with. The easiest way to do this is to schedule appointments in advance. Via email or over the phone, arrange a time for them to stop by your booth for a conversation or somewhere to meet on the trade show floor. It's a win-win since they know they won't have to linger around a booth waiting for someone to be available to speak with, while you know that they are more likely to actually show up if an appointment has been made.
Be sure to send a calendar invite so they receive a reminder about the meeting on their phone while they are walking the tradeshow floor.
If you plan on selling to other exhibitors at the show, make sure you are respectful of their time. As an exhibitor, they are there to sell, not be sold to. The trade show floor is generally busiest from 11 am to 3 pm. Try to schedule sales visits to other booths outside of these hours when your prospects are likely less busy and will have more availability to speak with you.
Size Matters
However, bigger is not necessarily better.
Judging industrial trade shows purely on the size of its attendee list is not always an effective strategy. Big shows come with big distractions since the largest companies generally attend only the busiest shows – bringing their fancy booths and displays with them. With so many distractions, it can be difficult for the average industrial business to connect with the audience it is looking for.
Instead, smaller shows, which are highly targeted to specific industries, can often be a more worthwhile investment. While there will be fewer attendees in most cases, the competition for their attention will be more balanced. As well, smaller shows generally attract smaller companies, so the chances of speaking with a decision maker, rather than someone from a department in a large corporation that has no interest in your products and services, is much higher.
Are Brochures Dead?
If not dead, then the role of brochures at trade shows is certainly changing.
While they are still an easy way to provide prospects with technical specs, locations, and contact details, it's important to remember that all of this information is available online today (if it's not, it should be!).
Prospects are unwilling to lug large brochures and product catalogs around since they can just look the details up from the comfort of their desk later.
Branded handouts are still valuable, but consider how they will be used. Smaller handouts, such as postcards or business cards, with links to more details online, are more likely to end up in a prospects pocket rather than the trash can. Better yet – ask for a prospect's contact information and promise to send details and technical specs after the show.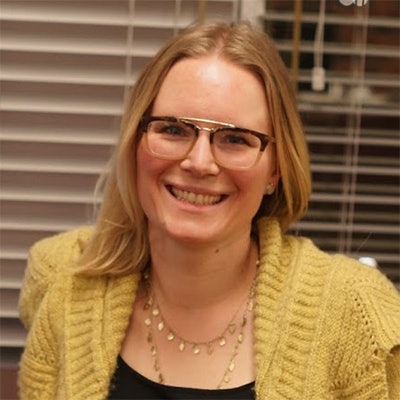 The real benefit of industrial trade shows today is the opportunity to reach out to prospects in your industry. The show itself is a unique opportunity to engage face-to-face with prospective customers. However, in the industrial sectors, where sales cycles tend to be longer and the price tags for equipment and services can be higher, buyers find the real information that impacts decision making in the series of interactions that take place before and after the event.
Martha Boulianne manages marketing and sales at ActiveConversion. You'll find her behind much of the content, design, and social media efforts that continue to grow our online presence. She has spent her professional life developing skills in design and online marketing and spends her time not at work charging around after her family and making things.