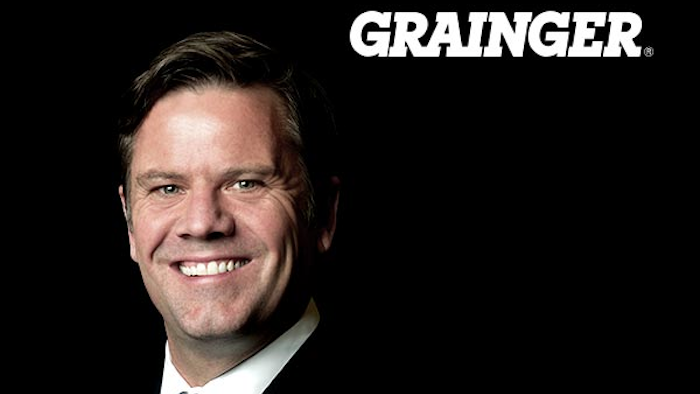 As most in the industry know, the earnings news out of MRO distributor giant Grainger has been less than positive in recent months.
Most recently, the company posted a 2 percent sales decline for the month of August, citing foreign exchange headwinds and cheap oil as cause for the decline. That followed a 1 percent sales dip in July, while the company said its sales in Canada declined 22 percent in August. In its Q2 earnings report on July 17, sales were relatively flat compared to last year, while profit was down $10 million. And that all followed a company-reported cyberattack that occurred on June 2.
On Friday, Grainger Chief Operating Officer D.G. Macpherson gave a presentation at the third annual Morgan Stanley Conference in Laguna Beach, CA, where he gave an overview of Grainger's business focus, where it's current successes are, as well as its struggles, before fielding questions from analysts.
Free Whitepaper: Turn Buyer Expectations into your Competitive Advantage
Macpherson started off explaining how Grainger – No. 3 on Industrial Distribution's 2015 Big 50 List – has pulled out of some emerging markets in order to focus more on North America, while its online business in Japan remains strong, and the company's goal is to grow its European business. "We really have very little emerging market exposure at this point," Macpherson said via a presentation transcript provided by SeekingAlpha. "We have a small businesses that's breakeven in China; we've pulled out of Brazil and India effectively."
That European growth effort was recently spearheaded by Grainger's Sept. 1 completed $482 million acquisition of Cromwell, the U.K.'s largest independent MRO distributor. With the move, Grainger aims to accelerate the growth and scale for its online MRO model in the U.K. and Germany.
Macpherson said its single channel online U.S. business, Zoro, has remained a solid success in its focus to growth with small businesses and will have "roughly $300 million in revenue this year."
Along with its small business growth success, Macpherson noted that while Grainger has had much success with growing large, complex businesses, it has struggled to grow with mid-tier level businesses. "We recently actually reconfigured our business and our organization to make sure that we have a similar focus on that mid-tier customer base and we can really turn-around and grow with that group as well," he said. "We need to make sure that we're growing more evenly across all the segments. And so that's going to be a focus for us."
Along with growing its mid-tier customers, Macpherson went on to discuss Grainger's two other business focuses: the customer experience, and reducing costs.
"The customer experience is very, very important," he said. "We do hundreds of thousands of transactions today. When you have that many transactions, you have to have a flawless customer experience, everything from helping customers find the right products to getting into them quickly to make sure you've got the all the billing correct. And that's not easy. And we have some improvement we can still make on that front."
"Obviously, you've seen the announcements, the economy isn't giving us any tailwinds, particularly in Canada. And so that's not news," Macpherson said. "And that business really we're going to spend a lot of time figuring out how to configure that business to be successful long-term, even though we're struggling right now with the economy.
"The world has changed. Large customers used to come into our branches more, we're now serving them at their place of business. That's an enormous shift in this business," Macpherson continued. "And we've got to make sure that we reduce our cost and serve customers as they want to be served and that's going to be a focus for us going forward."
Macpherson ended the Grainger overview with a statement that rings true for many large MRO distributors, that with the strong U.S. dollar, foreign currency exchange has had a negative impact on business abroad. Currency headwinds have been a common theme in quarterly earnings reports by more than a dozen of the companies on Industrial Distribution's 2015 Big 50 List.
"Obviously, you've seen the announcements, the economy isn't giving us any tailwinds, particularly in Canada. And so that's not news," Macpherson said. "And that business really we're going to spend a lot of time figuring out how to configure that business to be successful long-term, even though we're struggling right now with the economy."
The question & answer session with analysts followed. Here are some of the key exchanges:
Analyst: We've seen continued pressure, so August was pretty flat, so that continued to trend. But can you just give us your perspective on what you see in the U.S. and then perhaps in Europe as well?
Macpherson: I would say there is not great time for the industrial economy; we are not seeing a lot of economic tailwinds. I think certainly if you start with Canada, we have a business that's very skewed and strong in the Alberta region and that's a most obvious impact. That's obviously way down. But I think it goes further. I think all of us probably didn't understand some of the tailwinds that were allowed to happen given the oil prices in the past. And so I think we're seeing certainly heavy machinery struggling, heavy manufacturing struggling, there is some challenges with the government in terms of how much money do they have to do things, so really across the board. There are some bright spots, but in general, it's difficult.
Our expectation is that we are going to have to gain share. We don't see something that's going to really accelerate growth in the near-term. And so our expectation is we're going to have to gain share to drive growth.
Analyst: SKU expansion has been a tailwind to growth over the last 10-15 years. Has that caused the story run its course; are we now at level where SKUs are pretty much stable?
​Macpherson: We now have well over 1.5 million items online and we stock over 0.5 million items in the U.S. network. And so that has been a strong driver of growth. It continues to be a driver of growth, albeit not as strong. Our expectation will continue to grow SKUs, will continue to grow that way. I would say in Canada, we've got a nice opportunity. We now have the infrastructure to add more products there, particularly in segments we haven't attacked in the past. So I think that'll be a big driver there. And our Japanese business has been very aggressive on product line expansion as well. So, it's been a big lever; it'll continue to be a lever but not as much.
Analyst: Pricing has been about negative 1 percent year-to-date. When do you think pricing will turn positive? Or do you think the current kind of tough pricing environment is more of a structural issue?
Macpherson: I think the answer to that question is 'when do you think inflation will return?' If we are in environment where there's no inflation in the market, then price will be difficult to get, that's just the reality of our business. And right now certainly our cost of goods sold is down this year. So, we're actually seeing a little bit of deflation in our cost of goods sold. We expect that to happen next year as well. So, for the next couple of years, we don't see anything that's going to return us to modest inflation. When that happens, pricing will come back.
Analyst: About two years ago we all heard from investors that Amazon was going to come in and destroy the market. Has that gone away, or they have changed the emphasis?
Macpherson: I would say, we see Amazon most clearly for our small customer business. When you look at who – what customers are searching for in the search pads, when they find Zoro, they would also find Amazon in many cases. With large customers, we really don't see Amazon much or if at all. In a sense, I don't know what they are doing exactly in terms of their strategy here, but they've been a competitor for long time. The competitive environment hasn't amped up because of what they are doing.
Analyst: You've obviously had a big investment cycle – DC expansion in the U.S. and Canada. At what stage do we start to see that investment ramp down and normalizing?
Macpherson: In 2017, we will start to ramp down. And the reason is our biggest building is in New Jersey; it's going up and it will come on in 2016. So after that we will be in more of a normal period. The other reason is that we've had a huge investment in systems for Mexico and Canada that will go live – in Mexico went live a couple of weeks ago, but in Canada go live in early next year. So once we're passed those two, it would be more of a normal.
Analyst: Despite the negative pricing and investments in middle tier, you are pretty confident that you can maintain margins in your U.S. business in the mid teens?
Macpherson: Not only am I confident maintaining margins, I'm really confident in our growth path. I think we've got a lot of run where with large customers to grow. We will figure out the mid customer challenge. And with small businesses we are now growing and we're gaining share. And that's a big deal for us and that will really help us get on a growth path with very strong margins.