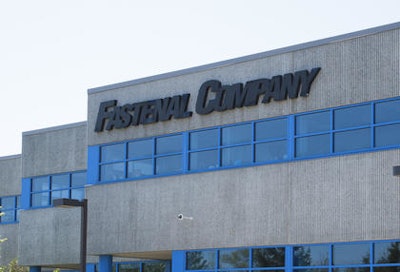 If it sounds like Fastenal wants to move in with you, it's because they do.
The industrial distributor associated with vending machines, bricks-and-mortar branches, and the blue and white logo on Ricky Stenhouse Jr's No. 17 Ford Fusion isn't done pushing the envelope – and it's all part a master plan to serve its customers at such a high level that they'll never want to leave.
Fastenal Onsite: A Family Approach
Fastenal considers itself a unique hybrid; a "big small" company. Big is the billions of dollars in annual sales, the FAST symbol on the Nasdaq, and the Fastenal logoed semi trucks cruising along the highways. But small, to Fastenal, means proximity: for the customer, the local Fastenal branch should feel like the small, local distributor from a standpoint of stocking, delivery, expertise, and customer service. With a 2,700 branch footprint, Fastenal's approach brings representation within miles of its markets, and it wants its customers to know that the branches are ready to serve them like a small company would.
Free Whitepaper: Turn Buyer Expectations into your Competitive Advantage
"We try to run the branch like we own it," says Fastenal COO Lee Hein. "If I own this business, and you call me on a Friday at 5, I'm not going to give you the standard response of 'You can call me back on Monday.'" Fastenal wants each local branch to feel like a small business and, says Hein, "we'll figure out a way to get you taken care of."
Luckily for Fastenal, it's not limited by a lack of resources in the way some smaller distributors are. In fact, the company is rolling out its latest program, dubbed "Onsite," as a way to provide even more premier service to its largest customers. Fastenal Onsite takes the local approach one step further by positioning a rep inside of a customer's facility, engrained to the point where they'll almost feel like an employee of the customer's company. Essentially, Fastenal takes over the tool crib, and the associate's entire job is seeking out opportunities to save that customer money, reduce their inventory, and Lean out the operation. "At some point, he will know your business better than you do," says Hein. He goes on to explain that Fastenal wants to offer up a family-like approach to account management. And once they're in the family, so to speak, the customer's site can be incorporated into the delivery route so, just like 80 percent of Fastenal stores, they're able to receive five trucks a week by 8am.
Fastenal has several customers participating in its Onsite program, and sees huge potential for more. But meanwhile, vending has been a more widespread way for the company to offer inventory management that's supported locally, creating a competitive advantage. "A lot of other vendors need to ship their products in or care for these machines from hundreds of miles away. That doesn't work well for the customer," says Hein. "We know we have an opportunity by just leveraging that branch; everything pivots around the branch."
A People-Centered Approach, Culture
According to Hein, one of the biggest challenges facing distribution is the "people side" of the business. For Fastenal, hiring is one way they keep a firm grasp on the culture of the organization. Rather than look to corporate recruiters, the company uses a more grassroots approach – working with community colleges and tech schools, and leveraging their district managers to ensure their local stores are staffed properly.
"Recruiting, for us, is a proactive activity that everyone in the company participates in. We want to find like-minded people who share our values and fit into our culture," says John Soderberg, Executive Vice President of Sales Operations. This culture piece is significant, especially since Fastenal almost exclusively promotes from within the organization. In fact, each member of its executive team worked their way up the ranks in the organization.
COO Hein believes there are three qualities that must be apparent in any candidate looking to start at Fastenal – they must have integrity, common sense, and a strong work ethic. Once in the door, Fastenal offers resources to support its promote-from-within methods, including the "Fastenal School of Business" where classroom time offers skill development in things like customer service, sales, leadership, and product training. The entire foundation of this skill development is to nurture an associate whose ultimate goal is to drive a solutions-based relationship. "People come to us for solutions," says Gary Polipnick, Fastenal's Executive Vice President of Sales. "Customers want to be led to what product they should use if they're not sure. We teach people to ask the right question, and how to listen."
This culture focus is another reason Fastenal has been, and continues to be, a story of organic growth. "M&A is as active as it's ever been, but our appetite for it has to be laser focused," explains Hein. "If we were to acquire something, the number one thing we're worried about is culture. It's really about the opportunity; it isn't just about gaining sales. If we were looking to acquire a company, it would be one we could actually improve, and create opportunities for their employees, and immerse them in our culture."
Tools for Advancement
Despite the fact that the Onsite roll-out is a focal point for Fastenal, the company hasn't shifted from its roots. Fastenal recently celebrated a big win on the vending front – announcing the implementation of the 50,000th FAST vending device at a Terex Mixer manufacturing plant in Fort Wayne, IN. With no intention of slowing down, Fastenal continues to drive innovation in vending, often based on customer input. Adding things like locker scales, reporting, and more advanced check-in functionality to keep track of important assets have added to the advantage for the customer. Additionally, Fastenal prides itself on its ability to make vending affordable for the average customer, outside of the savings that come as a result. Another key benefit is the information that vending yields – both for vendor and customer. Reduction in consumption aside, the vending machines have become intelligent to the point where they can flag HR if an employee checks out a first aid kit, for example, to ensure the necessary reports are filed.
Besides vending, Fastenal's pathways to growth are many. The company recently implemented an AS/RS (automated storage and retrieval system) with pick-to-light functionality, in order to optimize warehouse space and bring greater efficiency and accuracy to the fulfillment side of the business. "The system plays right into our customer service model," says Hein.
And no story these days would be complete without an e-commerce strategy. The company leaders believe Fastenal.com has an edge because the e-commerce orders are sent directly to the local branch. This makes for quicker fulfillment, as well as visibility into local branch inventory. Specific punch out systems for larger MRO orders mean the website can support more strategic relationships, rather than simply transactional sales. And when it comes to big online competition like Amazon, for example, Fastenal isn't exactly shaking in its boots.
Ideally, a company like Fastenal would give a customer every reason not to use Amazon. What this "big small" company can offer is customer service at a level that the online price game isn't even going to get their attention. For today's customer, having a supplier they can trust – one who stocks their critical parts and will be ready in any emergency – is key. "What we're giving you is comfort," says Hein. So when Fastenal customers see the blue logos on the vending devices, or on the shirts of their sales reps, they know they're getting the best of the best: the family approach.
This article first appeared in the September/October print issue of Industrial Distribution. To view the full digital edition, click here.