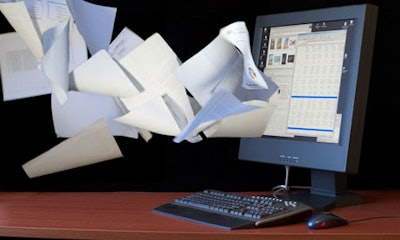 Wholesalers and distributors are facing a "Perfect Storm of Mass Disruption" in the marketplace and the only way to weather it is with innovation. Consider the following two disruptive forces creating this storm:
The previous generation of business owners, buyers and contractors are being replaced by new tech-savvy web and mobile users. These new customers are used to researching and buying products online. They expect free and rapid shipping, generous return policies, and the ability to price-shop without picking up the phone. They use mobile phones and tablets to research and order what they need anytime, anywhere.
Amazon has turned its sights on the B2B marketplace by launching AmazonSupply.com. This is a disruptive new mega-competitor not to be taken lightly. With $61 billion in revenue in 2012, Amazon sells more product online than its 12 biggest competitors combined, including Walmart, Target and other big box chains.
When you combine these two factors, it's easy to predict that traditional "feet on the street" distributors will need to evolve to survive. The sooner they innovate, the better the chance to prevent irreversible customer churn that is typical when disruptive technologies like AmazonSupply.com hit their stride.
What innovative strategies can distributors implement to pre-empt the Perfect Storm of Mass Disruption? They can do everything from implementing a B2B ecommerce and mobile strategy, to developing online marketing and pricing strategies, extending product selections by drop shipping, and investing in personnel that have the technical skills to stay on top of it all.
Innovative businesses embrace change and understand the generational shifts in process and technology they need to make to remain relevant, competitive and grow profitably. A critical piece of the innovation puzzle is to choose a software platform that lets distributors execute their online strategies effectively and efficiently, while keeping them ahead of the technology curve. This is exactly where NetSuite can help.
These visionary companies, which range in size from the very small to the very large, will continue to set the standard in the decade to come by embracing the latest technologies for core business processes, such as cloud computing for inventory, demand planning, fulfilment and financials similar to how those at the forefront of the quality movement and the global supply chain outpaced the market in recent years.
While some companies in the market are true innovators, there are also many that simply like to think of themselves that way. If you believe everything you read in corporate mission statements, there are millions of innovative and visionary companies. Unfortunately, few actually are. In fact, most wholesalers and distributors are entrenched in their existing business model and legacy distribution software, incrementally tweaking it to try to boost sales or cut costs by a point or two. That short-term thinking ultimately prevents businesses from taking advantage of changing conditions.
What is becoming clear is that wholesalers and distributors that fail to experiment with new business models will not keep pace with changing markets. So how do you transform your company into an innovative organization?
There are five common qualities that innovators often share:
Any employee can explain the corporate business model. If employees can't understand the way the company makes money, they can't intelligently re-invent it.
Innovation is a line item in the annual budget. Like R&D, high-level strategic thinking has to be a regular activity with resources behind it.
Ideas are road tested in a contained "sandbox" or laboratory environment. Just as software needs testing, so do new business models. Early testing in a regional market or a virtual market, helps prove or disprove the concept.
Managers track trends in other industries. Good ideas can come from anywhere, so savvy business leaders keep up with developments in other industries.
An ability to execute. Having the right technology in place to make innovation happen.
Traditionally, distributors typically cobble together and juggle numerous business applications and spreadsheets to manage the intricacies of this complex industry. Now they can stop wasting precious resources managing multiple "silo" systems. Cloud computing offers wholesalers and distributors a comprehensive way to unify their business processes, increase visibility for better decision making and extend collaborative processes to their customers and channel partners.
One such company is iAutomation, a supplier of machine automation products and services. Through research and an ongoing voice of the customer initiative, the company saw a demand in the market for more integrated systems and larger competitors like Siemens moving to meet that demand. To adapt, iAutomation restructured its highly experienced sales, engineering and field service staff to deliver products and services customized to each customer's needs, while filling in gaps with acquisitions and partnerships. Rebuilding the business around this customer-centric approach required a serious evaluation of business processes and internal systems. Ultimately the company, restructured its warehouse layout to better support customers through lean manufacturing principles, giving customers visibility into the order process and improved efficiency. It also customized its work orders and improved on-time delivery performance while increasing cross-sell revenue 200%.
From small regional or niche wholesale distributors to multi-million dollar global giants, cloud technology is revolutionizing how the industry engages with trading partners, monitors performance and identifies opportunities for improvement. Leading wholesalers and distributors are breaking new ground with speed, precision, visibility and cost-efficiency that can't be matched when grappling with disparate, siloed data in spreadsheets and on-premise applications.
There is little doubt that by investing in these latest technologies, distributors will be in a far better position to execute on innovations, as well as to envision new markets and business models.