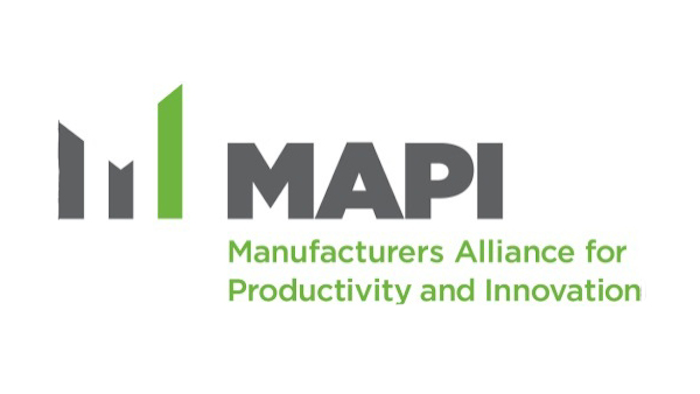 Manufacturing Production Expected to Increase 3.2% in 2014 and 4.0% in 2015; Projections for GDP Growth of 2.8% in 2014 and 3.2% in 2015
Arlington, VA - A modest rise in consumer spending combined with an increase in business investment in both equipment and structures should help increase U.S. economic growth, according to a new report.
 
The Manufacturers Alliance for Productivity and Innovation (MAPI) Quarterly Economic Forecast predicts that inflation-adjusted gross domestic product will expand 2.8% in 2014 and 3.2% in 2015. The former is an increase from 2.6% and the latter equal to the 3.2% from MAPI's December 2013 report.
 
Manufacturing production is expected to fare better than the overall economy, with anticipated growth of 3.2% in 2014 and 4.0% in 2015. The 2014 forecast is a slight increase from 3.1% predicted in the December forecast while the 2015 projection is down from 4.1%. 
 
"The economic environment we expect for the next two years is for decently strong employment growth, a falling unemployment rate, and relatively low inflation," noted MAPI Chief Economist Daniel J. Meckstroth, Ph.D. "The fastest growth in manufacturing will come from the rebound in the housing market, particularly in wood products, furniture, nonmetallic mineral products, and electrical equipment, appliances, and components." 
 
Production in non-high-tech manufacturing industries is expected to increase 2.9% in 2014 and 3.8% in 2015. High-tech manufacturing production, which accounts for about 5% of all manufacturing, is anticipated to grow 6.8% in 2014 and 7.2% in 2015. 
 
MAPI expects industrial equipment expenditures to advance 8.4% in 2014 and 10.9% in 2015. The outlook for spending on transportation equipment is for growth of 5.6% in 2014 and 4.1% in 2015. Spending on nonresidential structures is anticipated to improve by 3.5% in 2014 and 3.9% in 2015. 
 
Residential fixed investment is forecast to increase by double digits in both years, by 12.5% this year and an even more robust 18.8% in 2015.
"We anticipate 1.13 million housing starts in 2014 and 1.47 million starts in 2015," Meckstroth said. "There is pent-up demand for housing and a need for household formation. The solid increase, however, is from very low levels." 
 
Inflation-adjusted exports are anticipated to increase 5.1% in 2014 and 4.3% in 2015. Imports are expected to grow 3.3% in 2014 and 6.9% in 2015. MAPI forecasts overall unemployment to average 6.4% in 2014 and drop to 5.8% in 2015. 
 
The outlook is for an increase of 356,000 manufacturing jobs in 2014, a substantial advance from the anticipated 252,000 jobs in the December forecast, but decreasing to 197,000 jobs in 2015, a decline from 256,000 jobs in the previous report. 
 
The refiners' acquisition cost per barrel of imported crude oil is expected to average $94.30 in 2014 and $90.20 in 2015.