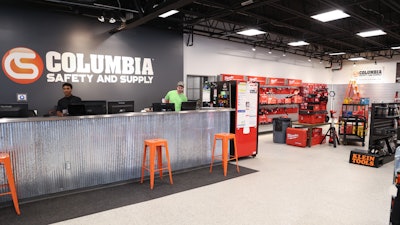 GME Supply
It's a familiar story in distribution. An entrepreneur – or a few – find that the best way to expand their business is to stock and sell adjacent products. What starts small scales up over many years, and a niche seller becomes a multi-line distributor.
Many of these themes are present in the GME Supply story, minus one: the timeline. Instead of decades of growth and expansion, this supplier compressed its achievements into a fast-paced effort that brought it from a 1,000-square-foot warehouse in 2011 to the ID Big 50 list in 2023.
A Master Class in Hitting the Gas
Prior to forming GME Supply, its founding family operated an engineering and fabrication business catering to the telecommunications industry. When the use of wireless devices exploded, they saw the need to support the builders of telecommunications towers with safety equipment. In 2005, the company established a base in Brooklyn, New York, and focused on fall protection until the company's founder – and now chairman – Beau Aero began to see opportunities in related products. In a bold move that now feels fortuitous, Aero moved his company from New York City to central Missouri, at which point GME Supply began to grow.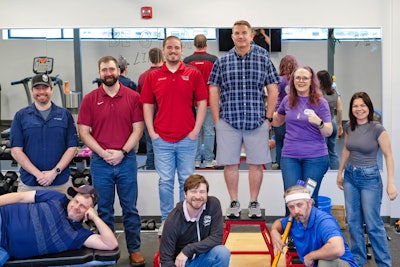 And grow, indeed. Within six years, the company exceeded the space of three separate facilities, adding showroom square footage, a video studio for product and educational content production, and warehousing. The stunning rise put GME on Inc.'s "5000 Fastest Growing Companies" list in 2014 and, in 2016, it was named Affiliated Distributors' "Distributor of the Year."
The next handful of years passed with the addition of several fulfillment centers and multiple acquisitions, including Custom Tool Supply of Denver, Gearcor of Johnson City, New York, Safety LMS of Austin, Texas, Team-1 Academy in Canada, Farwest Line Specialities of Atascadero, California, and – most recently – Comtrain, also of Austin. Along with this rapid acquisitive scale came organic growth, as well – enough, combined, to place GME Supply on the ID Big 50 list for the first time with $154 million in 2022 sales.
Putting the Pieces Together
It's evident that GME Supply's rapid growth isn't simply an aggressive game where scale comes from gobbling up market share through acquisitions; CEO Caleb Messer stresses that the company's approach is much more methodical.
But even the most calculated methods require the right people at the foundation. Messer believes GME's approach benefits tremendously from an emphasis on its nucleus of people, who exhibit a balance of both confidence and humility. He describes the team as hardworking but, also, with "the humility to know that we don't have the answers to everything. So we're going to ask a lot of questions and pay attention, but we also have the confidence to know that we can figure out anything we put our minds to."
While confidence and humility have no doubt guided GME through add-ons of both companies and staff in recent years, there is a quantifiable approach that accompanies them. GME believes the cultural fit of a company is key, but it isn't leaving the analysis up to chance. "We don't want to do anything that feels like it's too much of a reach where we don't speak the same language."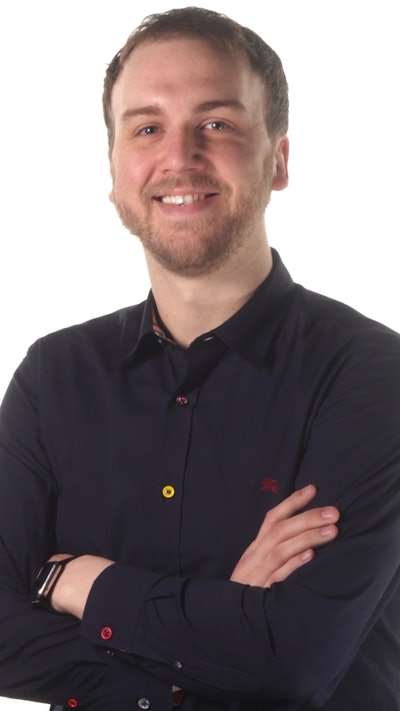 Ascertaining this connection comes with help from an organization called PI Midtlantic. This firm helps GME apply a professionally oriented personality test – derived from military methods used to assess the right type of person to be a successful fighter pilot – throughout the recruiting and onboarding process. Messer says this helps them "get a feel for what drives people and how they think about things." Not to mention, it allows GME to help understand whose personality type fits best in which roles. "We don't want anyone to be miserable when they're here, so why don't you do a job that lines up well with the type of person you are? That's the way we think about it."
Paired with this is an underlying "go-with-your-gut" approach. "We have a number of people in leadership positions that are really good at reading people and understanding motivations," says Messer. "They know they can get better results if they understand what motivates them."
Overall, the results have been remarkably low turnover and three "best workplace" awards. Additionally, an employee engagement team regularly takes stock of company morale and looks for areas where they can make the greatest impact.
Building a Moat
GME Supply began as an e-commerce company, which Messer credits for its ability to roll with the digitization of the industry as the years have passed. In many ways, the company feels it does this better than its peers. "We're trying to make our clients' lives easier so, as a result, they don't ever want to go anywhere."
GME does that by utilizing two proprietary B2B e-commerce platforms. One is designed for groups that do more centralized purchasing, and comes complete with dashboards to help users track spending by category and analyze usage rates. The second, according to Messer, came as a result of the Gearcor acquisition and serves as an approval process for personalized equipment, such as work apparel. Instead of employees purchasing the wrong boots at the wrong price, for example, they can order specific items through a voucher system, eliminating a swath of one-off expenses.
From an e-commerce perspective, GME stocks its website in such a way that it's a knowledge hub, not just a transactional site. The company offers proprietary educational content, inspection checklists, video and the like — all to "try to do what's right for the industries you serve," says Messer, allowing GME to "gain credibility and help (customers) understand that it's not just a hit-and-run transaction."
Dovetailing its digital expertise is a general aptitude for highly technical, specialized customers, something Messer feels acts as a "moat" for the business, insulating it from peers trying to pick up business in areas perhaps deemed too challenging to address. "(Many distributors) don't want to answer a challenging fall protection application question," Messer explains. "Or maybe they haven't invested in some of the technical test and measurement tool relationships because they feel like it's too small to want to deal with. They'd rather go after the slightly more vanilla, easily interpretable solutions. We're happy to run after those things and I think that's a big differentiator for us."
The Benefits of Listening
Ultimately, confidence drives its leading-edge development, as well as the ability to go after complex customer requirements. But humility paid the company back, too. According to Messer, GME gained a tremendous amount of knowledge by learning from the industry's leaders and trying to be "sponges" for information.
An active member of Affiliated Distributors, GME has leveraged the resources available to them and connected with industry thought leaders who "are willing to share their experiences and be open and transparent. I'd be remiss if I didn't say thank you to Network 210 in the industrial distribution section of Affiliated Distributors," he says, calling it "a group of people that have helped us see around corners we didn't know were there. And we were wise enough to shut up and listen."
And as GME Supply continues to listen – to its employees, the market and the industry – there's no limit to its success. It's how those elements come together that creates the unique business and culture that GME brings to the table – and that it must fiercely protect as it scales.
"The unique challenge for us is maintaining our culture, maintaining our ethos and our spirit and not letting that get diluted as we grow," says Messer. "As long as we can maintain our culture as we go, there's nothing that we won't be able to figure out."