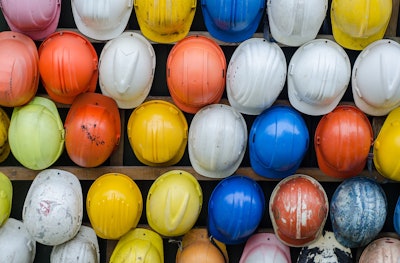 Warehouse businesses thrive where there is orderliness. They also do well when employees are safe. Unfortunately, accidents can happen in a matter of seconds leading to injuries and even fatalities. The U.S. Bureau of Labor Statistics reports that there is an average of 16 fatalities yearly in the warehousing and storage industry and an injury and illness rate of 5 out of every 100 staff employed in this sector.
These figures show that it is important to know what the risks are and to take steps to guard against them.
Below is an actionable list of warehouse safety tips.
1) Regular Warehouse Safety Awareness Training
Whatever safety procedures or systems are in place to run a warehouse, they are only as good as those implementing them. To ensure safety remains a top priority, frequent training (of every employee), followed by enforcement and review is essential. Without this vital step, every other tip listed below is merely a palliative measure.
A common mistake is to regard safety training as a one-time event whereas it should be a recurring practice.
Therefore, all employees no matter how experienced must renew their training to keep them abreast of any changes. Of course, new employees should go through this training before even their first task. After training comes enforcement to ensure the agreed procedures become part of the work culture.
Note that safety training is not optional but is a mandatory requirement as can be seen in this detailed publication by the U.S. Department of Labor's Occupational Safety and Health Administration.
2) Keep Equipment Well-maintained
Workers can forget that a warehouse is a potentially dangerous work environment and complacency quickly sets in. They forget that they are in the midst of complex equipment performing a variety of tasks, often at a hectic pace.
All it takes is one machine malfunctioning or releasing hazardous energy because a maintenance technician skipped some specific safety steps when they last serviced the machine. Frequent inspections that are a part of a preventive maintenance plan will help reduce equipment-related injuries, but for larger facilities trying to manage maintenance manually can turn into an administrative nightmare.
Imagine using a spreadsheet to plan maintenance on a large warehouse. Chances are very high that time will be wasted manually plotting and correcting activities and that the planned maintenance tasks will clash at some points.
A more efficient route would be to use automated resources like a computerized maintenance management system. CMMS will help with cost reductions, speed up service delivery, allow for better coordination, and much more. These are just a few of several reasons to use computerized maintenance management system.
3) Keep the Warehouse Clean and Organized
In large and busy warehouses, inventory items could be moved in and out all day long. This can quickly deteriorate into a messy environment where workers have to carefully navigate around empty packages and associated materials tangled all over the floor like wires, ropes, adhesive tape, etc.
This is often overlooked because workers are usually more focused on filling one order after another as quickly as possible. But it poses a danger – falling, slipping, and tripping which are all common sources of workplace injury. Minimize this risk by having measures in place to quickly remove unwanted items.
Other sources of trips and falls are spilled liquids from punctured packaging. This can be controlled by ordering items in sturdy packaging and adhering strictly to the manufacturers handling instructions.
4) Check Warehouse Layout for Hazards
These days, warehouses are designed more and more with workers' safety and convenience in mind. But that may not be the case with older facilities. In that case, modifications can be done to make the working conditions more tolerable.
A few things to watch out for in an ideal warehouse layout include:
Lighting should be bright and positioned all through the warehouse.
Forklift traffic must be separated or barricaded from pedestrian traffic to avoid collisions, especially around blind corners.
Safety signs are clear (if possible illuminated) and easy to understand.
Minimize the need for manual lifting, excessive bending, or straining by incorporating ergonomic workstations.
Stairs should be made of non-slip material and have sturdy guardrails.
5) Conduct Regular Safety Audits of the Facility
Putting warehouse safety tips in place is one thing, but maintaining these procedures long-term requires commitment from all parties and perseverance. A best practice for keeping up with safety requirements is to conduct frequent safety audits covering all buildings and machinery in the entire facility. Employees too should be audited as this is an ideal opportunity to check what they know and are doing to conform with safety procedures.
The goal here is to proactively catch any unsafe conditions such as:
Employees not using PPE.
Equipment not working properly.
Cluttered walkways and stairs.
Safety signs that are obscured with uniforms or decorations.
Emergency and fire exits are locked or poorly lit.
Stray cords laid across the floor.
Naked wires.
Cracked and chipped floor and tiling.
While the above list covers the most problematic areas, there are additional standards in place to monitor working conditions and prevent accidents. Here is a simple workplace safety checklist that can be modified to suit specific organizations and used as part of a general safety audit.
Unfortunately, ignorance of the law is not an excuse and violators can be fined tens of thousands of dollars. To make things easier for business owners, over the years, OSHA has gathered a list of its top 10 most frequently cited standards that businesses usually violate.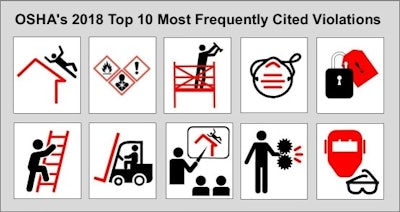 Keeping warehouses as safe as possible offers many benefits to the business owner and creates an environment where the staff feel safe and are empowered to work quickly, efficiently, and confidently. It also helps to avoid crippling fines and lawsuits.
Above all, it is important to be proactive. Never wait for something to go wrong before taking action.
Adam Robinson oversees the overall marketing strategy for Cerasis including website development, social media and content marketing, trade show marketing, email campaigns, and webinar marketing.