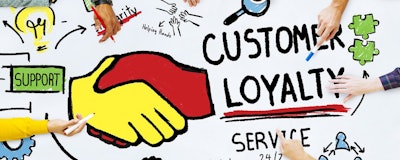 The world of distribution is evolving at an incredible rate. From disruptive technologies, to e-commerce and the changing demands of consumers and B2B buyers, the wholesale distribution industry is in upheaval. Today, industry leaders must look at service-based offerings for game-changing opportunities to reimagine their approach to selling and servicing customers.
Where Are We Now?
Distributors have been weathering the pains of change for some time, experiencing highs and lows due to a wide range of driving factors, from trade wars, to the rise of e-commerce. The sudden proliferation of global start-ups selling everything from pseudo-pharmaceuticals to knock-off designer brands has also added to the chaotic pace of disruption. Many distributors managed to ride out these forces with their e-commerce sites and tools to provide customers with online experiences.
But then came digitalization, which made it more critical for distributors to re-examine processes and reconsider what kinds of value-added programs they can offer customers. Now is the time for all-in investments for the future.
Relying on old-school practices, counting on fading relationships, or coasting through stop-gap patches on outdated technology will lead to obsolescence. Although industry pundits have been warning of rocky roads ahead for over a decade, many distributors are still struggling to reinvent their businesses. Best practices for the next- generation distribution industry are yet to be fully defined, but we know that service will be key.
Rally The Troops Behind The Service Banner
"Bring on the value-add services!" is the rallying cry often heard over the distribution battlefields. But what does that mean? Littered with casualties of price wars and same-day delivery land mines, the industry is cluttered with gallant efforts but little substance. What form should value-add programs take? How do distributors embrace the service-centric mind-set without giving away the last of their margins? Barriers to building service operations are numerous and often complex with no easy answers.
Here Are Six Common Barriers And Advice For Overcoming Each
Fee or Free?
Distributors have been reluctant to charge for field service or depot repair, saying customers expect service to be free and will not embrace a fee structure model. This question has a very easy answer: offer both. Some basic break-fix repairs or replacements, especially in the first 30 days, can remain complimentary, if they have been in the past. But, introduce enhanced service offerings which involve more than fixing a faulty component. Those advanced, tiered service agreements will bring in revenue and offer added value to customers.
Extended Warranties.
Some distributors question why they should offer warranties if the manufacturer offers a warranty. Manufacturer's warranties tend to be minimal and involve shipping the product back to receive a re-built model. By offering extended and tiered warranties at a price to generate revenue, you can combine parts and labor, or offer a discount on just parts, not labor. Such programs tend to be high-profit while building customer confidence.
Most importantly, warranties offer a chance for re-engagement with the customer, an opportunity to offer a replacement, upsell or add-on accessory. Service technicians, playing the role of trusted advisor, can share news about latest products and make recommendations. Ideally, technicians should have remote access to inventory levels, customer account details, and dispatch schedules so they can close the sale and schedule delivery while they are with the customer.
Service Agreements.
Agreements to provide preventive maintenance, routine calibration, inspections, or replacement of parts with a limited lifetime, like belts or filters, are other ways you can boost revenue from the service operation and provide customers with a valuable service. Contracts for service agreements are often automatically renewed, offering a recurring source of revenue.
The challenge with offering service agreements is that they can be challenging to manage unless you have technology in place. Without the right tools, it is easy to miss a scheduled quarterly inspection or fall behind in preventive service calls. Service-centric technology will help you keep track of the service agreement commitments and schedule those less-urgent calls during non-peak periods.
Replacement Parts.
Distributors may worry about the cost of maintaining an inventory of replacement parts needed to complete service calls. If you are guessing inventory needs and over-stocking, it is quite possible you will tie up valuable space and investment dollars beyond what you actually need. On the other hand, not having the necessary parts will cause delays in service resolution and require extra trips to the location, damaging the customer's perception.
With predictive analytics, you can accurately forecast needs and stock realistic levels of parts. Modern service management software with built-in features for parts inventory will help you forecast needs and keep appropriate stock. Machine Learning will make your projections more and more accurate.
Technician Shortage.
The shortage of skilled technicians, especially in field service operations, is a major concern for units that offer a full range of aftermarket field services. This can be a challenge, but there are numerous tactics to overcome the obstacle. You can train or re-skill existing workers, building a workforce which learns and expands its knowledge base over time.
You can also recruit new workers, appealing to them through attractive software that will make their job easy and rewarding. You can also use Virtual Reality for training new technicians, allowing them to test skills on virtual machinery or equipment. Another tactic is to use video technology to relay images from the jobsite to the repair depot so a senior field agent can coach an on-site novice technician.
Profit or Loss?
If you add a service division, or expand an existing one, how do you ensure that it contributes revenue, rather than draining cash? First, remember that your top goal is to build relationships with customers. Then look at how you can leverage technology to generate revenue.
Modern service management software will streamline processes, improving productivity — from the call center to the field technicians. Service-centric software will also help schedule and track dispatches, sending trucks to the right location, based on urgency, service agreement, and technician skillsets. It also tracks as-serviced history, warranties, and service agreements, giving technicians valuable insight while in the field. The technician can access the real-time data from the system to make well-informed decisions about whether to fix or replace the unit. The technician on the jobsite will be a trusted advisor, creating a highly effective and profitable service operation.
How To Get Started?
Leverage your leadership's insights and nurture your workforce. A fleet of vehicles and tools is also needed, but most importantly, you will need technology to support your team's efforts. Without the right software solutions, your efforts to build relationships with customers can back-fire. Technicians who arrive late or who are not properly equipped to do the job will only frustrate customers, not build loyalty relationships as you want.
As distributors face pressure to remain relevant in this changing world, there is urgency to build out your service offerings. Change is happening at unprecedented rates, do not risk falling behind in the race to reimagine your distribution business and includes services. Get started now.
As Director of Industry & Solution Strategy, Kelly Squizzero has been with Infor for over 20 years, joining through the company's daly.commerce acquisition. She has focused on distribution ERP solutions throughout her career, serving as product manager for eight years and held prior positions in customer support, professional services, and presales. In her current role, Kelly is responsible for combining input from sales, marketing, development, and customers to set the strategic direction and lead the execution for distribution products. Kelly is based out of the East Greenwich, Rhode Island, office.