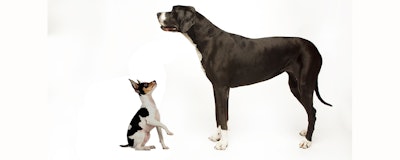 Smaller manufacturers can often go unnoticed in the shadow of larger competition. Big companies have deep pockets, which translates to more resources to compete on every level. They can invest in more infrastructure and reach more customers, and they ultimately grow stronger from the profits they generate.
How can smaller manufacturers top that?
Realistically, they can't. Bigger businesses already have such an edge, they'll almost always dominate the industry. But that doesn't mean smaller businesses can't shine, too.
Modern technology allows a small manufacturer to look, react, and behave just like an international mega-conglomerate. And when it comes to marketing its product and having a national (or international) reach, marketing software and automation can level the playing field.
How to Compete
Technology can give even the smallest business an innovative website or sophisticated customer nurture, but it won't be enough to truly stand out. Bigger manufacturers will already have name recognition in their arsenal. Thus, without any way for smaller guys to stand apart from generic juggernauts, they'll struggle to lure customers away from larger competition, no matter how much they invest in technology.
In addition to using marketing technology that expands their footprint, small manufacturers must display clear understanding of (and appreciation for) their industry niche. The best way to do this is by connecting with customers directly.
Large conglomerates won't waste time going to trade shows or meeting with individual customers and clients; it's just not efficient for them. They can get plenty of business by using large customer service centers to contact customers on the phone or online. Further, any complaints can be handled through their efficient corporate frameworks.
And while this approach is effective for large batches of customers, it lacks a personal touch — that's a weakness the little guys can exploit. Smaller manufacturers are able to be in the trenches with customers. They can (and should) make in-person visits to customer facilities and industry events. Through these personal interactions, small companies can establish themselves as specialists in their given niches while simultaneously making solid connections.
Accessibility is the priority from the company's top down. Few customers have access to a CEO's contact information, but a smaller manufacturer with fewer customers should be that accessible. If a company has 200 customers, allowing them to have access to the CEO is something large companies will rarely offer (if ever).
It's just old-fashioned service and relationship building, but it's how smaller manufacturers can get out from behind behemoths' shadows. The approach is even more effective when it's combined with the right technology, which can make smaller companies look just as sophisticated as any larger manufacturer.
Don't Just Survive — Thrive.
Smaller manufacturers will likely never gain an edge over larger businesses. This isn't David and Goliath: The little guys aren't taking the giants down. But there's still plenty of room for surviving and thriving in a niche. Here are three steps to finding that sweet spot:
1. Always respond to prospects either in person or over the phone — quickly.
These days, companies of all sizes should leverage marketing automation to track and engage with customers. But for smaller manufacturers, this should just be the starting point. Marketing technology identifies when a business prospect engages with a company online, but the steps from there will be different.
Once potential customers are identified, the smaller company should reach out either in person or on the phone, not through a generic, automatically generated message. A hybrid of digital marketing and human interaction will help smaller companies stand out — technology alone isn't enough.
2. Don't force prospects' needs into one-size-fits-all solutions.
Huge companies often want to fit clients into boxes. It's efficient and usually gives customers what they want — but sometimes it doesn't. Behemoths can offer a lot, but when it comes to modifying anything, they're quite rigid.
For most customers, this is fine. But some clients need customized equipment or processes. When that doesn't fit into the box the large company offers, they're out of luck. Smaller manufacturers, on the other hand, can offer that flexibility: They're nimble and better listeners. When a large company doesn't have what the customer wants, a smaller company can scramble to get the job done instead. Smaller companies can thrive by offering a product or service to fit the customers' need instead of making the customer fit their products.
3. Keep the face of the company consistent.
Large companies have an extremely efficient sales process. It's like an assembly line: A generic email or a call center (either domestically or offshore) generates a lead, which is then handed to a client services manager. That manager is assisted by a contract manager, and both of them may later be moved to a different account, replaced like cogs in a machine.
This process moves sales quickly, but people don't like to feel like they're on a conveyor belt.
Smaller companies often can't — and shouldn't — operate in the same way. The first person in contact with a customer should stick with her from pitch to sale, during implementation, and eventually through onboarding. Smaller manufacturers are offering specialization within their niche, so they must be where their customers are to help when needed.
Industry behemoths implement tech to cut out as much customer interaction as possible. For them, a personal touch isn't profitable. With this approach, those huge companies will still dominate the competition without doing nearly as much work.
It's enough to make the leaders of small companies throw up their hands (and white flags). But it can be better: There's still a place for small manufacturers to survive, thrive, and grow. And, as long as modern tech and good old-fashioned customer service are married successfully, it's possible.
Steve Pizzolato founded the marketing group AVALA a little more than 20 years ago. With 35 years of marketing experience — specifically with a focus on helping improve marketing integration among manufacturers who sell through dealers — Steve has built AVALA to be a leader in providing luxury brands with the strategy and technology to ensure the brand's customers stay with AVALA through the entire customer journey, from aspiration to advocacy.