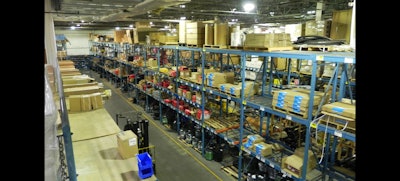 As companies have grown in response to the rise of e-commerce, the types of managing systems deployed in warehouses have evolved. The most common systems boil down to one of two types, warehouse management systems (WMS) and warehouse execution system (WES). While both types perform similar functions, the lines between them have blurred, reports DC Velocity. Rather than trying to sort through the details on your own, consider their key differences.
A WMS Focuses on Managing Slotting and Data in a Warehouse
This is the simplest interpretation of a WMS. The system manages the data side of things, including slotting optimization and reporting. Depending on the system used, the WMS may take on additional roles that are typically found in a warehouse execution system (WES).
The WES Involves Actual Movements of Product
A Warehouse Execution System performs functions that are like functions in a WMS, which include mobile scanner integration, data capture, pick management, inventory management, small-parcel manifesting, inbound order and management of shipping and labor. However, WES systems often go beyond this capacity to include automated picking systems, such as robotics, to enhance the order-fulfillment process. Meanwhile, automated zone skipping, sort management, ship management and mobile scanner integration also comprise a WES.
Which System Is Better?
There is not a catch-all net for deciding between implementing a WMS and WES system. However, if your existing system only serves the minimal functions of a WMS, how are you managing products when an order comes through?
Are you facing endless paper-based pick lists, or are your workers complaining about redundant routes when picking products? These activities fall under the scope of a WES. However, some WMS systems may perform certain WES activities as well.
If you are confused, you are not alone. The key to determining if your existing system would benefit from a WES lies in evaluating what your current system is lacking. Ask yourself the following questions:
Do I have visibility and access to item data from inbound to outbound processes?
Are routes efficiently designed?
Is the system finding inefficiencies in other operations?
Does the system handle pack and ship management too?
Can the system be deployed across multiple locations?
Do I have visibility into multiple locations?
If you answered "no" to any of these questions, your current WMS is lacking. Instead, you may consider implementing a strong enterprise-wide order management system that integrates WMS functions with WES functions.
There's a lot of choices for Warehouse Execution System, so, Now What?
You have the choice in deciding the future of your operation. While multiple warehouse systems may exist, the key to making their use effective is integration and enterprise-wide deployment. If your systems are disconnected and failing to give your company a competitive advantage, it may be time for an upgrade. Know the difference between these systems, and learn to recognize when your WMS might need to be upgraded to a newer system.
Jason Rosing is founding partner of Veridian; a valued Manhattan Associates partner and technology leader specializing in user-friendly, robust and flexible automated testing and configuration management solutions designed to meet the ever-changing challenges of the omni-channel landscape.
This article was originally posted by Veridian on their website here.