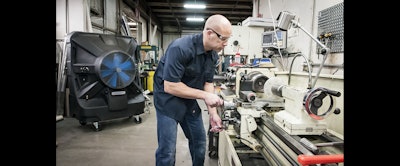 ​It's practically summer, and at this time of year, more and more manufacturing customers need to ramp up their efforts to keep their facilities cool. Thus, industrial fans become a premium item throughout the season.
ID recently spoke with Shane Cupp, director of sales for industrial fans manufacturer Portacool, to get his thoughts on the latest developments in the market and what distributors of them should keep in mind. Here's what he had to say:​
ID: So many industrial equipment purchases are now being made with energy efficiency in mind. What advances in energy efficiency are you seeing in industrial fans?
Cupp: Advancements in motor technologies is leading the way. We are able to achieve higher performances and velocities with portable evaporative coolers while lowering the energy consumption. Advancements in composite fan blades gives the manufacture a leading edge in comparison to metal props of yesterday. While taking the industrial fan to the next level of cooling, evaporative cooling is the most energy efficient way to cool industrial applications.
ID: What new features have come along in the past couple years for industrial fans that didn't exist before?
Cupp: We (at Portacool) are constantly asked about portability. Conventionally, fans were mounted on walls, support poles, or stationary on machines. Now, customers are requesting products that are easily moved and that can be placed exactly where cooling is required.
ID: With value-added being top of mind for industrial buyers, what recent advances have been made in the materials for industrial fans to boost longevity?
Cupp: Industrial buyers look for a high quality product that will last for years. Composite housings, sealed bearings, direct drive motors are a few materials that boost longevity. Composite housings will last a lifetime while direct drive motors are maintenance free. Traditional fans that incorporate metal housings or belt driven require additional maintenance and generally see a shorter life cycle.
ID: What kinds of services are today's industrial fan buyers asking for? (ex: installation, warranties, maintenance, etc.)
Cupp: The buyer today wants exceptional warranties, most reputable companies give a 3 year warranty on electrical components. Easy installation with minimal maintenance is a must. Ultimately, the buyer wants a product that is portable, easy to use, a can adapt to multiple applications throughout the facilities.
Portacool recently released its new Jetstream series of evaporative coolers, which feature revitalized designs that generate significant airflow and provide cooling options for a variety of work environments. Available in four sizes, customers can select the Jetstream evaporative cooler that will best accommodate their space with cooling area options ranging from 1,125 to 5,625 square feet.