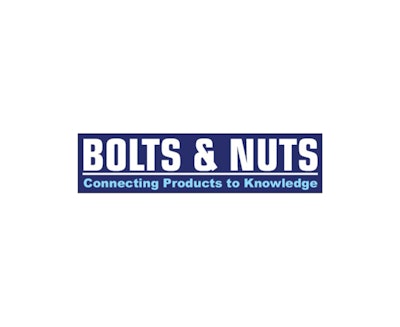 Spend just a few minutes talking about Chattanooga, Tennessee-based Bolts & Nuts Corp. with anyone in its management team and you'll immediately know why the company is the success it is today: it's commitment to people.
Bolts & Nuts (www.boltsnuts.com), a fastener, MRO, and specialty parts distributor and service provider, performs a plethora of functions that leave no doubt that it views its people – its customers and employees – as its best assets, and will do whatever it takes to keep that true.
Whether it's 24/7, 365-days-a-year customer service, providing bin stocking, customized dashboard reports, or the lengths the company goes to help its community, Bolts & Nuts' major growth – especially over the last 5 years – has been directly tied to its efforts to its ethos of being a people-first organization.
"Part of our core values is taking care of our key stakeholders: Customers, team members, and communities," says Dave Hadani, Bolts & Nuts executive chairman. "Most of that is viewing our customers as long-term partners."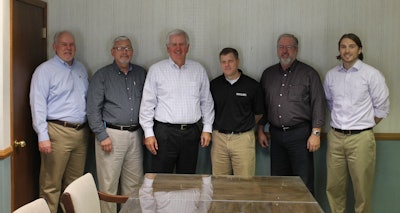 Customer & Community
Lots of service-oriented companies preach about their customer connection. But the best ones take steps to ensure it each day.
To emphasize transparency, in 2015 Bolts & Nuts began providing a dashboard report to most of its major customers. The completely customizable reports let customers view the products they're being provided and how their sales have been over a monthly or quarterly period, as well as inventory turns and other operating metrics of importance to that specific customer. The company also provides updates on how the steel market is doing on a quarterly basis and how it affects customers' future pricing.
Bolts & Nuts' providing vendor-managed inventory service does everything from basic deliveries and bin stocking, to having in-plant personnel make sure the customer's facility is running efficiently. CEO Mike Strunk says many customers have taken Bolts & Nuts up on their offer of giving advice on how to improve warehouse practices, cost savings, and cost-of-ownership for their account. As part of its VMI service, the company has made a push to provide product bins and returnable totes, something Strunk says has been an important value-add to its customers.
"We don't take a cookie-cutter approach to VMI," he says. "The best thing our sales team does is listen. We want to know what our customer's pain is, and how we can help."
Bolts & Nuts works hand-in-hand on front-end projects with the engineering departments of different companies, helping them design new parts. This provides those customers unsolicited cost-savings, and in a number of instances, has resulted in Bolts & Nuts having large contracts renewed without having to go out for bids.
"They're (the customer) often kind of surprised, saying, 'why are you giving us this discount?'" says Strunk. "We do it because we feel it's the right thing to do. If we can find a different, lower cost part solution that will do the same job, we'll pass that on to them."
Another service that sets Bolts & Nuts apart from many of its competitors is its always-available customer service phone line. Any time of day or night, including holidays, a customer can call and talk to a live person.
"Over the years that's resulted in numerous new customers," Strunk says. "A customer may have been buying from someone else, but couldn't reach them. So they called us and we were able to bail them out of trouble. I believe that's one of the most important things we've done over the past 20 years."
Hadani's background also includes serving as chairman of the board for Goodwill Industries, an aspect that's reflected in Bolts & Nuts' role in the community. In 2014, the company began its "Community Care" program, which has included donations of books and uniforms to a local Chattanooga elementary school, as well as swing set repairs there, food and paper donations to the Salvation Army, and even a "Moustache Movember" – an awareness drive that raised $2,889 for a local charity. Along with that, Bolts & Nuts gives all employees a paid day off each year to do community service.
"Service business by its nature is a relationship business," adds Hadani. "You can't claim to have a relationship with people in business without also having relationships outside the workplace. That's core to this company's ethos, and was even before we got here."
Internally, the company makes sure to take care of its own, which is largely why half of Bolts & Nuts' employees have been there at least 10 years. During the 2008-2009 recession, all employees, including the entire management team, took pay cuts to minimize cutting staff.
Part of the company's efforts to be transparent internally is its Flow Committee, which began around 2007. Headed by director of operations Mike Tucker, the committee facilitates the flow of the work throughout the company. Consisting of department managers and key employees, the group meets every couple of weeks to talk about how operations are affecting different departments to eliminate potential problems, and acts as an implementation team whenever there is major changes, such as the headquarters relocation.
"We have different ideas and opinions about how things should be handled, and that's the place we can get together and air everything out and reach compromises that keep the business going smoothly," Tucker says.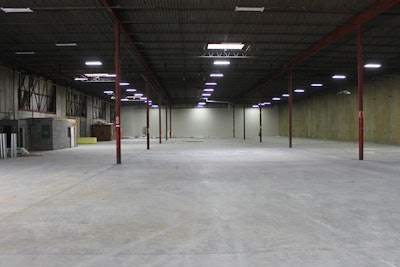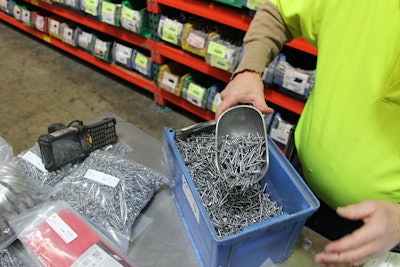 Recent Expansion
That mantra of putting people fi rst led the company to achieve 20-plus percent sales growth each year from 2010-2012. That growth led to Bolts & Nuts to partner with Nebraska Heavy Industries, a Lincoln, Nebraska-based investment firm. The capital and marketplace contacts gained from that partnership has allowed Bolts & Nuts to accelerate that growth and expand its physical and geographic presence.
Today, Bolts & Nuts is well on its way to becoming a nationwide OEM industrial distributor and service provider. In the past two years, the company has opened new facilities in Lincoln, NE, and Danville, KY, bringing its branch total to seven, and just moved into its new Customer Service, Operations and Technology Center in Chattanooga that is more than double the space of its old facility there.
"It's been very exciting, and time-consuming – all the adjectives you could say about growth," says Strunk. "Fortunately, it's been controlled and calculated growth."
Strunk says the company's future expansion will be two-fold between organic growth and acquisitions, and it was eyeing bolt-on acquisitions as of early December. The company doesn't publicly disclose its fiscal earnings, but when Bolts & Nuts was featured in Industrial Distribution's "2015 Watch List," Hadani stated, "We have a number in the pipeline that, when closed, will result in tripling our growth, and exceeding $100 million in revenues."
Bolts & Nuts has locations in Tennessee, Georgia, North Carolina, Illinois, Nebraska, Kentucky and California.
Strunk says plans are in place to expand into the Kansas and Texas market this year. Strunk says the company's employee count should grow to approximately 75 with this year's planned 2016 expansion, with "plans to grow to more than 100 with our future growth before acquisitions."
Technology Developments
Bolts & Nuts is a little more than 1 year into a new ERP system, which it says has streamlined the gathering and sharing of customer reports, and delivered advantages on the purchasing side. The new system led the company to start a new value-add service in its dashboard reports, and has allowed it to make major progress on its quest to go paperless.
This past November, Bolts & Nuts launched a redesigned portal website, the first part of a multi-stage process that aims to create an interactive, customizable space for customers to view products and services, check inventory, and submit quotes that can later be turned into orders by the Bolts & Nuts sales team. Financial Controller Keith Shope says the goal is for the full-functioning site to be available sometime this Q1 of 2016.
While many industrial distributors are jumping into ecommerce, and others are torn on if or how to begin offering it, Bolts & Nuts has decided not to offer transaction- based e-commerce, for the same reason that has made them a success – its relationship with its customers. The management team says adding a point-and-click function to the business risks it losing human interaction, an element it feels it does better than its competitors.
"We're finding that many of our competitors are using technology to replace that human interaction," Strunk says. "This team feels very strongly that there's the potential to lose sight that fasteners are highly engineered mechanical devices. Losing that touch between the distributor's engineering experience and the customer could lead to problems down the road."
While Bolts & Nuts' new website offering doesn't allow customers to buy right from it, it offers everything but. And in a time when so many other distributors in the same market feel the pressure to give in to the e-commerce world, perhaps Bolts & Nuts' take on the dilemma will be one to follow.
"As some companies grow really large, there's a real danger of losing the relationship side of the situation," adds Terry Brock, Bolts & Nuts' director of customer service. "It's one of the things that really sets us apart from the large industrial distributors of the world. We have the capability to service the customer, the experience to assist them in any situation, and the personal touch. We never lose sight that the customer is the most important part of the relationship."