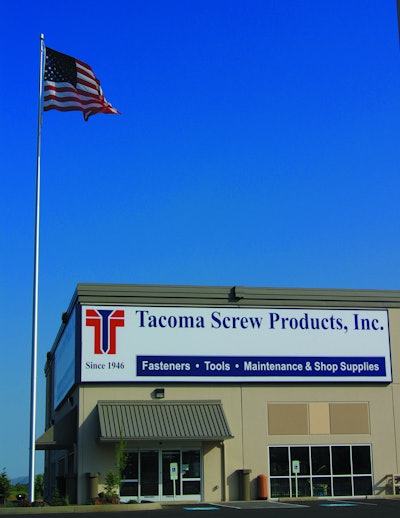 This article originally appeared in Industrial Distribution's July/August print issue. To view it, click here.
Since 1946, Tacoma Screw Products, Inc. has considered itself a leader in the distribution of fasteners, tools, maintenance, shop, and industrial supplies.
This Tacoma, WA-based distributor has branch locations in Washington, Oregon, and Idaho, and customers in every industry from agriculture and truck repair to discrete manufacturing and food processing. Like many small and medium sized businesses in this space, opportunities for growth can be cumbersome or resource-prohibitive, yet Tacoma Screw has been able to create opportunities for reaching new customers and adding a layer of enhanced service to its existing base.

The Journey to Online Excellence
So how does a nearly 70-year-old regional distributor create a path for growth? Online, of course. From wire frame to what it is today, the implementation of a Tacoma Screw state-of-the-art e-commerce site took roughly 20 months. But according to Eric McGregor, E-commerce and Operations Support Manager, and Gary Myers, IT Manager, this is one of those jobs that's never really done.
It started with a vision. After working in sales for many years, McGregor understood the pain of having to explain to a customer that while Tacoma Screw did have a website, it wasn't much more than a static catalog, and it wasn't very easy to use. "I kept telling myself — we're missing the boat," explains McGregor. As more customers started to ask for it, Tacoma made a decision to embark on an e-commerce site — and invested in hiring Myers to help execute the project.
Tacoma Screw partnered with NetSuite to implement the company's SuiteCommerce platform. But because Tacoma uses Epicor for its ERP, there was a lot of integration that needed to happen in order to maintain business continuity in areas like order insertion and invoicing. Additionally, Tacoma still worked with its existing catalog company to help manage product content. For example, when a product is created in the ERP system, it then goes to NetSuite to be prepped for its eventual build into the e-commerce site. Then, the catalog company applies the product content, and sends the data back to NetSuite. At this point, it's ready to be put online.
According to McGregor, this process has been able to ensure that the format of the product attributes and descriptions stays the same. It also means that, when the catalog company goes to develop the print catalog, they are not doubling up on the work. Keeping this content aligned between print and web has meant for a lot of time spent, but it was well worth it to create an integrated process.
Additionally, "we didn't have the item attributes stored anywhere before," says Myers. Now the company has been able to cultivate an archive with application in both print and online.
Tacoma Screw's ultimate goal for the site was to create the most user-friendly interface possible. Even though the company is on a much smaller scale, it still took its cues from the industrial distributors who are leaders in e-commerce — including the likes of Grainger, McMaster-Carr, and Fastenal.
"Our goal initially was to take the best things that they do, and try to incorporate those into our site," says Myers. "We did that, and added some bells and whistles that a smaller company like us normally doesn't do." This includes customer visibility into real-time inventory. Since Tacoma Screw maintains stock at its branches, it allows for customers to decide whether they want to wait for delivery of a stocked item, or simply pick it up at their local branch. In fact, 90 to 95 percent of Tacoma Screw's catalog is stocked at each one of its 16 branches.

Small Company, Big Effort
For Tacoma Screw Products, Inc., customer service is a key driver of its success. This privately held, family-run company identifies first as a fastener house, and dovetails that with industrial supply. In a heavily commoditized industry like fasteners, Tacoma Screw has the competitive advantage of carrying some of the niche products that are fairly hard to find. This has become a strong asset in the world of e-commerce. For example, Tacoma has been receiving lots of orders from the East coast from new customers who have found them online. It may take a little longer to ship, but for these national customers, it's worth it to find what they're looking for.
An additional benefit has been with its existing base, where customers have more visibility into the full Tacoma Screw product line. "I think the online space has really helped us develop," says McGregor.
"A lot of people might have just thought of us for fasteners, but now they go online and see all of this other product we offer." Customers can also log in for a custom pricing matrix, which creates the ability for outside sales to see the site more as a selling tool than a competitor.
Gaining employee buy-in is critical in a time where good help is hard to find. Tacoma Screw can boast major longevity from a typical employee, perhaps due to the culture of loyalty that serves as its foundation. During the recession, Tacoma Screw did not lay off any employees. This, coupled with a compensation structure that provides 100 percent paid benefits to the employee and their family, means "it's just a good place to work," says McGregor. "I think the owners of the company foster this." Low turnover also means some longtime customers may have only had one or two different salespeople.
Knowledgeable people, combined with fast turnaround, are the differentiators that Tacoma Screw requires to stand out from its competition. "Our service, and having the inventory be available to the customer on time, have really kept us going."

To check out the e-commerce site, visit www.tacomascrew.com.