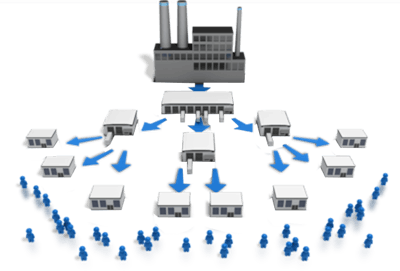 The industrial world is changing at an incredibly rapid pace. In just the last two years, the industry in the United States has rebounded in a way that few predicted during the recession. Industry and technology are the heart of the global economic recovery, and that puts distributors at the center of the action. Upticks in demand and a shifting consumer base make industrial distribution more complex than ever.
From a changing global economy and a shift away from outsourcing to newer technologies and consumer demands, distributors have their work cut out if they want to keep ahead of trends. With 2015 around the corner, here are five bits of wisdom that can pay off for distributors looking to the future.
Service Expectations are on the Rise
One of the most obvious changes that will impact your distribution business in the next year is that customer expectations are going up. Customers are getting used to customized service to the point where they value being pampered even more than the price and benefits of shipping in bulk. For example, in 2015 your customer will likely want service that is quick and specialized — for that reason, they like distributors near them and they want to minimize handling costs. That gives an advantage to distributors who put more of a focus on local facilities.
Unfortunately, rising expectations means you have less room for error. Your job is becoming more and more complex. Not all new methods have been tried and tested, and the customer has less patience for failure. The best way to prevent failure is to lean heavily on more experienced workers and distribution managers. Make sure you are partnering with the most knowledgeable companies and learn from them. And learn to be adaptable.
It's Time to Think Local
Production is being decentralized. Whereas previous business models favored massive manufacturers that could produce large quantities and then ship in bulk, the trend is to seek out customized products from multiple manufacturers closer to home. The shift toward specialized products and services (as explained above) means that customers have more options than ever before. Hubs have less relevance as local shops are gaining the edge. As a result, regional manufacturing "clusters" that are closer to the customer are replacing massive plants. Customers and distributors alike are able to save on exorbitant international shipping costs while capitalizing on quick and convenient distribution.
Customers are Realizing that It Pays to Hire a Delivery Service
The industry changes mentioned above mean that more customers are seeking out distributors who can tailor services to their needs — as opposed to directly approaching retailers and manufacturers and relying on them for all shipping services. As a distributor, this is a benefit to you. Delivery services are winning business that used to belong to retailers. The reason is that customers like the freedom to pick and choose services, rather than doing business within the confines of a retailer's limited capabilities.
As an example, customers are increasingly inclined to choose a delivery service over the retailer because a delivery service company is less likely to put up barriers that prevent that company from going with multiple brands. That's an advantage distributors have, and it's something they should make known when looking for more business in 2015. Additionally, customers are learning to appreciate the unique positioning of distributors that allows them to provide additional services — for example, purchasing from vendors, delivering directly to a store and actually stocking inventory. In the coming year, expect more opportunities like this and learn how to take advantage of them.
You'll Need to Be More Flexible
With that in mind, it is important that a distribution business stay flexible. It's a new world in local and global distribution, and your customers will be tweaking their business needs to find new efficiencies. Businesses are still skittish following the recession, and they are going to great lengths to ensure they are not trapped by stubborn business models. They will adjust routes, distribution practices and product sources until they find the right combination. And they will be watching you to see if you are able to meet these changing needs efficiently.
Part of being flexible means knowing when to use manpower versus automation. Distributors should be careful not to box themselves in when it comes to services, and they should understand that their customers feel the same way.
You Should Prepare to Use Automation Whenever You Can
As mentioned above, customers see potential for increased efficiencies as they shift away from retailers and toward distributors. To meet that need for efficiency, you as the distributor should take steps to reduce manpower and increase speed. That means embracing technology. Automated systems are becoming the norm, and advanced mobile robotics are taking on a larger role. They don't get tired, they can work longer hours in less-than-ideal working conditions and they are virtually insusceptible to extreme climates.
Mobile robotics are able to fill orders and handle materials at a rapid and reliable pace, and 2015 likely will see even more advances in this type of technology.
Brad Poulter is the Executive Vice President of Operations at Best Transportation Services, Inc., based out of Woodridge, IL. Best Transportation Services is the leading provider of freight services for the warehouse management industry.