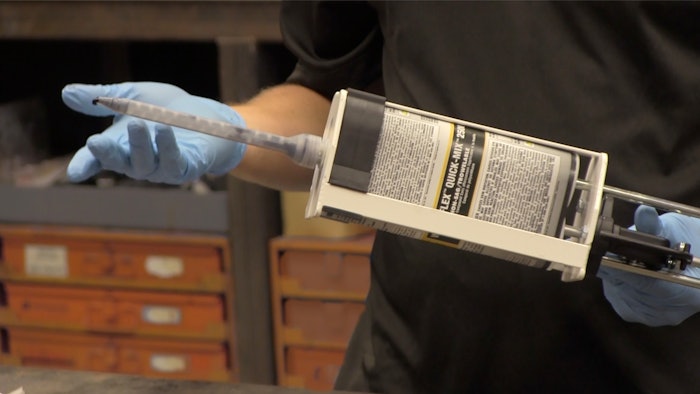 Wear-Flex from Lawson Products (Chicago, IL) is a self-mixing urethane repair compound that forms a flexible bond on a variety of materials. It's perfect for applications that involve vibration or expansion/contraction movement. Wear-Flex adheres to rubber, ABS, concrete, urethane, steel, wood, ceramics, glass, nylon, composites, and masonry. It's available in self-leveling and non-sag formulas for horizontal and vertical applications. Specifically:
Applications include conveyor repair, urethane bushings, bellows, bumpers and tire chocks, concrete seam repair, crack repair in high vibration areas.

Superior adhesion to multiple surfaces.

Short cure time for fast repairs.

Forms a flexible bond that withstands chemicals, grease, oil, and water.

Remains flexible at low temperatures.
According to Lawson, Wear-Flex was utilized in an experiment conducted on the International Space Station to observe the effect of microgravity on rubber compounds. Not only did Wear-Flex rubber form during spaceflight, but it also remained intact and flexible upon return to Earth.
www.lawsonproducts.com, 866-837-9908