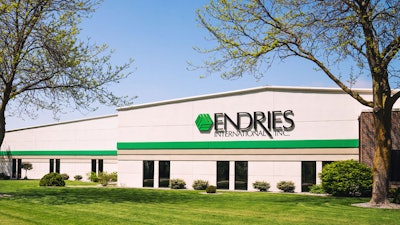 Endries
BRILLION, Wis. — Endries International Inc. on Wednesday announced the acquisition of the Viscan Group.
Founded in 1992 by Sylvain Baril and headquartered in Joliette, Quebec, Viscan is a leading supplier of specialized screws, general fasteners and related components. Viscan offers over 25,000 unique SKUs, including proprietary components, and provides a variety of value-add services, including vendor managed inventory solutions as well as custom transformation or "secondary" process operations (i.e. kitting, painting, plating), which are all performed in-house.
Viscan's existing associates together with its leadership, Sylvain Baril, Catherine Baril and Michael Baril, will continue managing daily operations.
"It is a great honor to have been selected by the Baril family to acquire the business they founded and have grown so successfully", said Steve Endries, chairman of the board of directors for Endries. "The trust that they have placed in us is not something that we take lightly; we look forward to working with this talented leadership group."
"We are thrilled to welcome the Viscan team into the Endries organization. With their commitment to customers, industry knowledge and complementary culture, we expect the transition to be seamless. As with prior acquisitions, the addition of Viscan will make Endries not only bigger, but better, by expanding existing operations in Canada and providing new opportunities for growth throughout North America. We are excited to welcome Viscan associates into our family" said Michael Knight, president and CEO of Endries International.
"Joining forces with Endries will expand our potential and together, I am confident that we will reach unparalleled heights. I am genuinely excited for what the future holds not only for our business, but for our customers who will benefit from enhanced services and a wider product range," said Sylvain Baril.