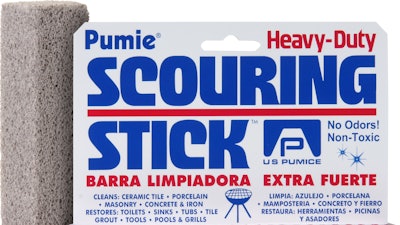 Summit Brands/GlobeNewswire
FORT WAYNE, Ind. — Summit Brands, a leading manufacturer of niche specialty cleaning products, on Tuesday announced the acquisition of the Pumie line of abrasive cleaning products from United States Pumice Company.
Pumie joins a strong portfolio of environmentally friendly abrasive cleaning solutions owned by Summit Brands. This acquisition strengthens Summit Brands' market position and opens doors to new growth opportunities.
Pumie products are widely used in the professional janitorial and restaurant markets and also distributed through major retailers for use at home. Pumie is a heavy-duty, non-toxic, scouring product designed to remove the toughest build-up from a variety of surfaces. It cleans through gentle abrasive action and works where other solutions fail. Top uses include removing rust and hard water build-up from plumbing fixtures as well as baked-on food from ovens and grills.
"We are pleased to welcome Pumie to the Summit Brands family," said Summit President Joel Harter. "This acquisition reflects our dedication to providing our customers and consumers with effective, sustainable cleaning options."
Elizabeth Anderson, a third-generation owner of the United States Pumice Company discussed the acquisition, saying, "Pumie® is a brand that has been trusted by millions for over 75 years, so we did not make this decision lightly. We know that Summit Brands, also a well-respected family-owned company that supplies high quality, sustainable and effective cleaning products, is the right fit for the Pumie® brand moving into the future."
The acquisition was finalized in late August 2023. Summit Brands will ensure a seamless transition for customers and suppliers.