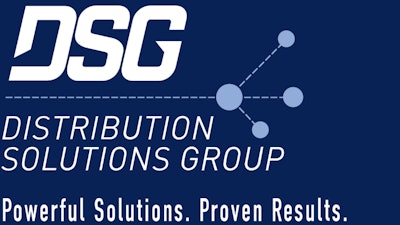 Distribution Solutions Group
CHICAGO — Distribution Solutions Group Inc. announced Friday that it reached a definitive agreement to acquire HIS Company Inc., a leading distributor of specialty products serving high growth industrial technology applications.
In connection with the transaction, DSG will combine the operations of TestEquity and Hisco, creating one of the largest suppliers serving the electronics design, production and repair industries. For fiscal year ended October 31, 2022, Hisco generated sales in excess of $400 million and adjusted EBITDA of approximately $29 million.
Hisco, an employee-owned company, operates in 38 locations across North America, including its Precision Converting facilities that provide value-added fabrication and its Adhesive Materials Group that provides an array of custom repackaging solutions. Hisco offers customers a broad range of products, including adhesives, chemicals and tapes, as well as specialty materials such as electrostatic discharge, thermal management materials and static shielding bags. Hisco also offers vendor-managed inventory and RFID programs with specialized warehousing for chemical management, logistics services and cold storage.
"We are very excited to announce our plans for this strategic acquisition which we expect to be accretive on an adjusted basis starting in 2023. Hisco is a strong business with niche market leadership positions, a strong growth and return profile, and an outstanding management team that we believe will thrive as part of DSG," said Chairman and CEO Bryan King. "The combination of TestEquity and Hisco will take a "best-of-both" approach in terms of people, capabilities, and strategies. While our industrial technologies focus will benefit most from this combination, we are also excited about how Hisco is expected to expand DSG's commercial opportunities and durability, enhancing our organic growth rates and providing further scale to the overall DSG platform."
"The addition of Hisco will meaningfully expand the product and service offerings at TestEquity, as well as all of our operating businesses under DSG," said Russ Frazee, CEO of TestEquity. "With the addition of Hisco's product lines and value-added capabilities, we are able to offer customers a more comprehensive solution for their electronic assembly requirements. We look forward to working with the Hisco team to bring increased value and offerings to our combined customers, suppliers and stakeholders."
"This transaction is the result of decades of hard work on the behalf of our employee owners," said Bob Dill, Hisco's chief executive officer. "It's also a recognition of Hisco's deep industry relationships, innovative customer-centric solutions, and comprehensive capabilities that Hisco has developed over the course of its history. Looking ahead, the combination of TestEquity and Hisco will allow the combined business to build on our complementary capabilities and further enhance the value that Hisco, TestEquity and the DSG family of companies provide to its customers and partners."
Acquisition Terms and Financing
In connection with the transaction, DSG has agreed to pay $269.1 million at closing, with a potential additional earn-out payment of up to $12.6 million, subject to Hisco achieving certain performance targets. DSG will also pay $37.5 million in cash or DSG common stock in retention bonuses to certain Hisco employees that remain employed with Hisco or its affiliates for twelve or more months after the closing of the transaction.
DSG anticipates funding the transaction using a combination of its expanded committed credit facility and approximately $100 million of equity to be raised in a rights offering to existing stockholders. Luther King Capital Management and its affiliates currently own approximately 77% of DSG's outstanding stock and have indicated an intention to fully subscribe for their pro rata portion in the rights offering, as well as for their pro rata portion of any rights remaining unsubscribed at the completion of the subscription period. The Company anticipates that after giving effect to this combination its net debt leverage on adjusted EBITDA will be between 3.25x to 3.50x at the time of closing.
The transaction is expected to close in the second quarter of 2023, subject to regulatory and customary closing conditions.