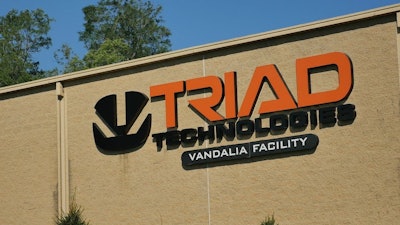 Triad Technologies LLC, a leading distributor of fluid power, industrial automation and fluid conveyance products, announced that it completed the acquisition of Industrial Service Products LLC on Dec. 30.
ISP is a value-added distributor of custom fabricated hose, valves, fittings and other related products for the safe, efficient transfer of liquid and dry goods to a wide array of industrial customers. The company is headquartered in Lyons, Illinois, where it has served regional customers since 1972. The business has a well-deserved reputation for strong technical capabilities, quality product lines, and extraordinary customer service. The combination of Triad and ISP creates a powerful platform to deliver value-added solutions to new and existing customers.
"We are pleased to welcome Steve Parker and the ISP team into the Triad family," said Greg Wissman, president and CEO of Vandalia, Ohio-based Triad. "ISP's broad offering of hoses, fittings, valves, loading and safety equipment aligns nicely with Triad's base of industrial customers and will complement our current offering of premium motion control and hydraulic products. Importantly, we share a common commitment to the highest levels of customer service, technical expertise, and support."
"This combination is an exciting opportunity for our customers and employees," added ISP President Steve Parker. "Triad's additional resources and capabilities extend ISP's ability to offer an even broader array of product categories that provide solutions for customer applications. And the combined company not only better positions ISP to meet the needs of its customers, but also creates growth and development opportunities for our employees."
The acquisition of ISP is consistent with Triad's strategy to expand its product offering and geographic presence.
"ISP enhances Triad's fluid conveyance and industrial hose capabilities, and it strengthens our footprint in Illinois and Indiana. Looking forward, Triad continues to seek acquisitions that expand its product breadth and geographic reach to better serve its customers," said Charlie Denison, managing director at Shorehill Capital LLC.
Triad and Shorehill partnered in 2019; since that time, Triad has successfully executed numerous organic growth initiatives and ISP represents the partnership's second acquisition.
Terms of the transaction were not disclosed.