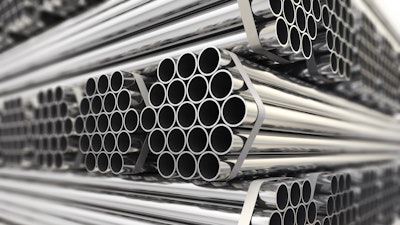 iStock
LOS ANGELES — Reliance Steel & Aluminum Co. announced Oct. 4 that effective Oct, 1, it has acquired Merfish United, a master distributor of tubular building products in the United States, from One Equity Partners, a middle-market private equity firm.
Headquartered in Ipswich, MA, Merfish United serves 47 U.S. states through its twelve strategically located distribution centers. Merfish United's broad product offering includes full lines of steel pipe, copper tubing, plastic pipe, electrical conduit and related products for the commercial, residential, municipal and industrial building markets. For the 12 months ended June 30, 2021, Merfish United's net sales were approximately $500 million. The current Merfish United team, including management, will remain in place. The terms of the transaction were not disclosed.
"We are excited to welcome Merfish United to the Reliance Family of Companies and to broaden our focus on adjacent business opportunities beyond traditional metals service centers," commented Jim Hoffman, Chief Executive Officer of Reliance. "This transaction aligns with our acquisition strategy of expanding our product, end market and geographical diversification and acquiring immediately accretive companies with strong management teams. Further, Merfish United increases our exposure to copper and plastic products and positions Reliance in the adjacent industrial distribution space with a platform for further growth."
Founded in 1939 and headquartered in Los Angeles, Reliance Steel & Aluminum Co. is a global diversified metal solutions provider and the largest metals service center company in North America. Through a network of approximately 300 locations in 40 states and 13 countries outside of the United States, Reliance provides value-added metals processing services and distributes a full-line of over 100,000 metal products to more than 125,000 customers in a broad range of industries. Reliance focuses on small orders with quick turnaround and increasing levels of value-added processing.