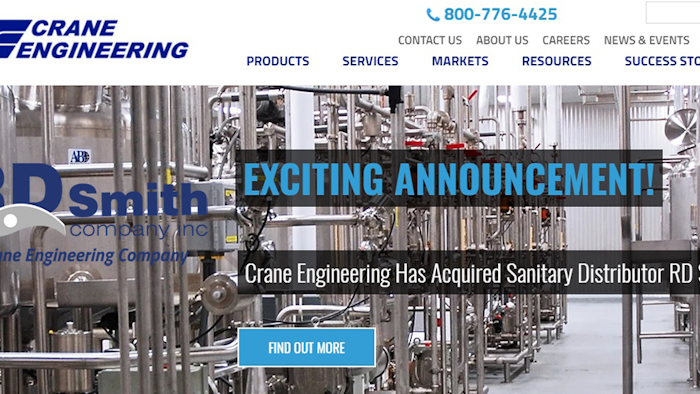 KIMBERLY, WI — Crane Engineering, a Wisconsin distributor of fluid technology solutions, announced Thursday that it has finalized the acquisition of RD Smith Company, Inc., a long-standing fluid processing equipment distributor based in Eau Claire, WI, serving Wisconsin, eastern Minnesota and northern Iowa.
The deal adds more high-value manufacturers to Crane Engineering's offerings, including Fristam Pumps, APV (a SPX FLOW brand) and Dixon Sanitary. It also extends Crane's distribution capabilities into Minnesota and Iowa.
"We are excited to build on RD Smith's history of success," Lance Crane, president and CEO of Crane Engineering, said. "For over 85 years, RD Smith focused on providing dairy manufacturers with industry-leading quality equipment and service. Now, we're combining that with Crane Engineering's 79 years of family ownership, technical expertise, field service and repair, and access to the latest technology. This positions us on a strong platform for growth."
Fritz Smith, current owner and president of RD Smith, will help facilitate the transition.
"I'm proud of everything our team has accomplished. It has been an honor to serve our customers and lead our team over the last eight decades," Smith said. "Handing over the keys to a company who would look out for our customers was important to me. I'm certain, given their team of experts and broad capabilities, Crane Engineering is the best possible choice for our customers."
Crane Engineering plans to operate from both RD Smith's Eau Claire and Kimberly locations.
"This is a very exciting day for RD Smith and Crane Engineering," Crane added. "We look forward to RD Smith employees joining our team," Crane added. "Our team is committed to uninterrupted service and a seamless transition for RD Smith customers."