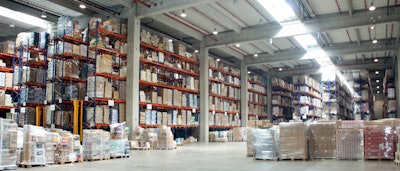 Europe saw record-high levels of warehouse property leases and investment last year as e-commerce continued to alter the commercial property landscape.
The Wall Street Journal, citing numbers from property broker CBRE, reported that the amount of space leased for logistics purposes in Europe increased from 205 million square feet in 2015 to 230 million square feet last year.
Investment in industrial and logistics real estate, meanwhile, increased from nearly $25 billion to some $27 billion over that span.
The report attributed the bulk of the trend to Amazon, which accounted nearly one-fourth of all leased warehouse space in the U.K. last year according to Savills, another property broker.
U.K. real estate investor LondonMetric said that it leased additional space to Amazon last week, and the Seattle e-retailer recently announced plans for new warehouses in Germany, France, Poland and Slovakia.
The growth of e-commerce is stressing Amazon's warehouse capacity worldwide despite its rapid increase in distribution centers — particularly in urban areas as the e-retailer aims to deliver items quickly and at lower costs.
"E-commerce is forcing investors to look at logistics and warehousing completely differently," LondonMetric chief executive Andrew Jones told the Journal.