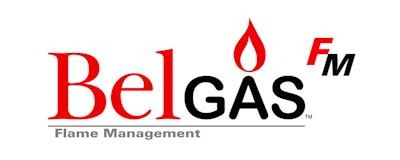 NEWELL, WV — The Marsh Bellofram Group of Companies has announced the creation of its new BelGAS FM (Flame Management) division, further diversifying Marsh Bellofram's existing BelGAS division, a global leader in the design and manufacture of both high- and low-pressure regulator products. The new BelGAS FM division will serve the needs of the oil and gas industry with a range of flame arrestors, tank venting accessories, burners, and specialty fabrication services.
BelGAS FM's flame arrestors can help prevent calamity by mitigating the risk of combustion in pipeline systems. A flame arrestor device inhibits or prevents flame transmission while allowing gases and liquids to pass through. Because of the unique and critical nature of these products, BelGAS FM will offer custom fabrication services to industries including oil and gas, refining, pharmaceuticals, power generation, mining, and more.
"The oil and gas industry continues to be a growth market and a center of focus for product development," said Joe J. Colletti, Jr, President and CEO. "But even more than our products, it's our expertise in these products' design and manufacture, our ability to take our product to market, and proper specification that is vital to protecting life and equipment. The creation of BelGAS FM makes this possible by channeling our considerable resources into a dedicated division."
The new BelGAS FM division will be headquartered in Claremore, OK.
Headquartered in Newell, W. Va., USA, The Marsh Bellofram Group of Companies is an AS9100D and ISO9001:2015 certified global manufacturing collective. Its portfolio comprises high-performance OEM, industrial and process control instrumentation, including timers and counters, digital controllers and panel meters, RTDs and thermocouples, pressure instruments and gauges, FRLs, cylinders, natural gas and propane pressure regulators, valves, air pressure regulators and transducers, tank and liquid level measurement systems, pump and motor protection switches and alternating relays, as well as sensors, DC tachometers, encoders, industrial diaphragms, and specialty silicones. For more information, visit www.marshbellofram.com.