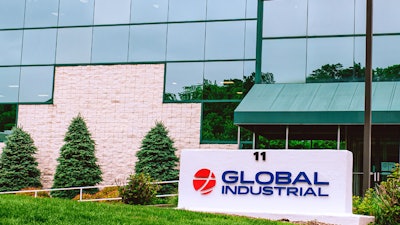 Global Industrial
Global Industrial Co. reported higher sales in its latest fiscal quarter — reversing year-over-year declines in its previous two earnings reports — thanks to its May acquisition of Indoff.
The Long Island-based distributor on Tuesday disclosed net sales of nearly $326 million in the second quarter of the year, up 2.3% compared to the same quarter last year.
Excluding Indoff's operations, however, the company's comparable sales dropped by more than 5% year-over-year. Net income from continuing operations, gross profit, and both gross and operating margin all declined compared to the second quarter of 2022, the company said. Net income from continuing operations of $0.56 per diluted share were down just over 5% compared to the same period last year.
READ: Global Industrial Acquires Indoff Inc.
Global CEO Barry Litwin said the decline in organic revenue stemmed from price deflation and continued caution from the company's smaller and medium-sized customers. Indoff's lower margin profile, meanwhile, affected the company's overall gross margin; excluding Indoff, gross margin improved by 20 basis points, Litwin said.
"We are making investments across our web and direct sales channels to enhance our competitive position and long-term growth profile," Litwin said in a statement. "We believe we are well positioned to drive performance as customer sentiment improves."
Global Industrial came in at no. 18 on ID's latest Big 50.