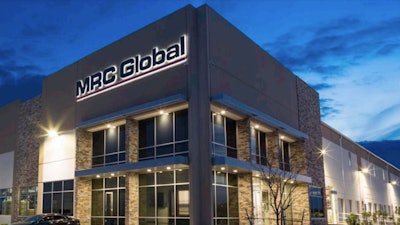 MRC Global Inc. on Tuesday reported a 26% increase in sales last year and said its adjusted gross profit set a new record.
The Houston distributor of pipe, valves and fittings — no. 10 on last year's ID Big 50 — posted $3.36 billion in 2022 sales, up from $2.66 billion in 2021. Net income attributable to common stockholders was $51 million last year, or $0.60 per diluted share, which reversed a loss of $38 million and $0.46 per diluted share in the year prior.
The company reported adjusted EBITDA of $261 million, or 7.8% of sales, up 230 basis points from last year, while adjusted gross profit as a percentage of sales, at 21.3%, represented a new annual record.
MRC officials attributed the strong year to a "growth a diversification strategy" that emphasized its upstream, chemicals and energy transition end-markets. Company President and CEO Rob Saltiel said all three "outperformed our expectations."
"Two of our business sectors, gas utilities and DIET [Downstream, Industrial and Energy Transition], exceeded $1 billion in sales, and we increased our company adjusted EBITDA margins to multi-year highs through improved commercial focus and cost discipline," Saltiel said in a statement.
The company said its fourth-quarter sales jumped 27% compared to the final three months of 2021 to $869 million, while adjusted EBITDA rose from $47 million to $66 million over that span.
Saltiel said MRC would maintain its previous forecast for 2023 amid "solid fundamentals" across its business sectors; the company anticipates "double-digit revenue growth" and adjusted EBITDA margins of more than 8% for the current year.