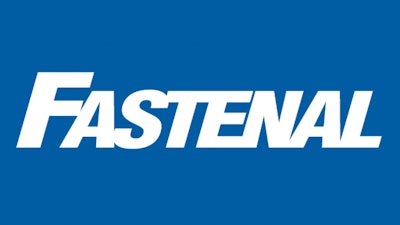 Fastenal's third-quarter sales increased 16% while earnings jumped nearly 17% compared to the same period last year, the fastener and industrial products distributor reported Thursday.
The Winona, Minnesota-based company said net sales rose from $1.55 billion in the third quarter of 2021 to just more than $1.8 billion in the latest three-month window. Net earnings rose from $244 million to $285 million over that span, exceeding analysts' expectations. Gross profit climbed nearly 15% — from $720 million to $827 million — but declined slightly as a percentage of net sales.
Fastenal officials said the company saw higher unit sales as strong demand from commodities and capital goods markets offset weaker performance in consumer goods and construction. The company also saw an impact of 550 to 580 basis points on net sales from product pricing due to steps the company took to mitigate the effects of inflation on fasteners, transportation services and other products.
The company said the impact of pricing moderated in the latest quarter and that it did not take any "broad pricing actions" during the period. Foreign currency exchanges and adverse weather in the Southeast dented its sales in the quarter.
"Spot prices in the marketplace for many inputs, particularly fuel, transportation services and steel, began to decline during the period," Fastenal officials said in a statement. "Due to our long supply chain for fasteners and certain non-fastener products, however, it is likely to take several quarters before this is reflected in our cost of goods."
Among Fastenal's product categories, sales of fasteners rose by more than 18% during the third quarter, while safety supplies increased by more than 12%. Sales of all other products increased by more than 15%.
The company said it opened three branches and 92 "Onsite" locations between July and September, while closing 24 branches and 26 Onsite locations, net of conversions. Fastenal said its full-time employee headcount was more than 19,500, up 9.3% compared to last year.