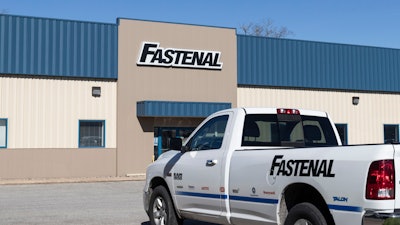 iStock
Fastenal reported its July sales results on Thursday, showing a strong daily sales growth month for the distributor after an underwhelming June and May.
The Winona, MN-based company posted total July sales of $492 million, up 4.7 percent year-over-year and down 7.8 percent from June. Fastenal's July daily sales were up 9.7 percent — a healthy acceleration from June's 1.7 percent growth and a 3.2 percent decline in May.
Geographically, Fastenal's July US sales increased 8.2 percent year-over-year (-1.3 percent in June); increased 20.5 percent in Canada/Mexico (+23.1 percent in June); and increased 11.5 percent to the rest of international (+14.1 percent in June).
Read More: Fastenal, Grainger Address Challenges in Labor, Transportation Costs (published Aug. 4)
By end market, Fastenal's July sales increased 22.5 percent year-over-year to manufacturing customers (+24.3 percent in June) and increased 9.5 percent to non-residential construction customers (+2.5 percent in June).
By product line, Fastenal's July fastener sales grew 22.3 percent year-over-year (+24.4 percent in June), while safety sales — which surged as high as 136 percent in May 2020 and have regulated since — were down 5.4 percent (-30.3 percent in June).
Other notes from Fastenal's July sales report:
National accounts daily sales growth was 15.0 percent year-over-year, identical to June
Non-national accounts daily sales growth was 3.0 percent year-over-year, compared to an 11.0 percent June decline
72.0 percent of Fastenal's top 100 national accounts grew sales in July, up from 71.0 percent in June
67.0 percent of Fastenal's public branches were growing sales in July, up from 68.8 percent in June
Fastenal ended July with a total headcount of 20,320, essentially identical to June and down 0.4 percent year-over-year

Total full-time selling headcount of 13,387 was down 1.6 percent YoY, with in-market locations headcount (11,338) up 0.3 percent and non-in-market headcount (2,049) up 9.5 percent
Distribution/transportation full-time headcount of 2,686 was up 3.9 percent YoY
Manufacturing full-time headcount of 629 was down 0.5 percent YoY
Administrative full-time headcount of 1,528 was up 10.2 percent YoY