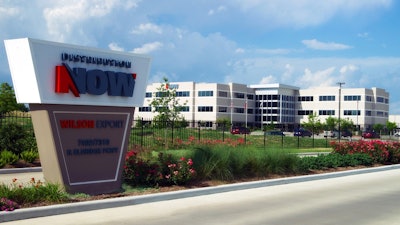 Oilfield products distributor and energy services provider NOW Inc. — now operating at roughly half the size the company was a year earlier after a significant footprint transformation — reported its 2021 first quarter financial results on Wednesday, showing solid sequential sales improvement as its net loss continues to shrink toward breakeven.
Given that significant 2020 downsizing, it's much more useful to emphasize the company's sequential quarterly results than year-over-year.
The Houston-based company, which does business at DistributionNOW, reported total Q1 sales of $361 million, up from $319 million in Q4. Illustrating its downsizing, DNOW's 2020 full-year sales of $$1.62 billion were a little more than half of 2019's $2.95 billion, including Q1 sales of $604 million.
DNOW took a Q1 2021 operating loss of $8 million, which was a much smaller loss than $37 million in Q4 and $333 million in Q1 2020. The company's Q1 total net loss of $10 million likewise considerably improved from a $44 million loss in Q4 and a $331 million loss in Q1 2020.
"We are very pleased with the positive results we achieved this quarter, driven by strong 13 percent sequential revenue growth," said David Cherechinsky, NOW Inc. president and CEO. "We closed our second acquisition this year in April and remain debt-free. Without the heavy cost of debt burden, we have plenty of strategic and balance sheet flexibility with ample liquidity to fund organic growth and to pursue additional acquisition opportunities. Last year, we committed to achieve break-even EBITDA in the first half of 2021 and achieved our goal a quarter early ($1 million in Q1)."
As for Q1 2021 US revenue, the company said US energy comprised 81 percent of Q1 sales, with US Process Solutions contributing 19 percent.
DNOW's Q1 gross margins were 20.8 percent, considerably up sequentially from 14.1 percent in Q4 attributed to resilient product margins and lower inventory charges. A year earlier, Q1 2020 margin was 19.4 percent.
During Q1 in February, DNOW completed the acquisition of Master Corporation — an Odessa, TX-based engineering, procurement and construction firm that is authorized to perform services in a dozen southern and western US states. The company provides engineering, design, drafting, procurement and construction services for the oil, gas and process industries. Financial terms of the deal were not disclosed, as well as the revenue gained from the acquistion.
More recently, On April 1, DNOW closed on its acquisition of the Flex Flow Pumping Business from GR Energy. Terms were likewise not disclosed, but it gains DNOW a Midland, TX-based provider of H-pump solutions for applications across the energy industry.
New Operating Model
Commenting on its leaner operating model going forward, DNOW noted its new structure focuses on a more centralized fulfillment model, with smaller branches and reduced personnel and vehicles, square footage and less inventory focusing on higher turns.
The company utilizes "Super Center" to direct ship to customers and is implementing new warehousing technology to improve efficiencies
The company is focused on cost transformation to better adapt to market demand and preserve balance sheet
Meanwhile, DNOW is leveraging technology and its DigitalNOW digitalization platform to enhance employee productivity and increase operational efficiencies. This has included the utilization of: an improved order management system; an advanced quoting system; process analytics; an upgraded enterprise warehouse management system; migrating multiple data centers to the Cloud; and upgrading process solutions ERP 
NOW Inc. was No. 10 on Industrial Distribution's 2020 Big 50 List on account of its $2.95 billion in 2019 sales, but the company will likely now end up charting around No. 13-15 on the 2021 Big 50.