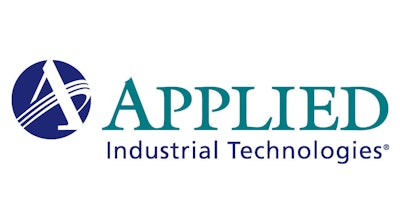 Applied Industrial Technologies — one of the few publicly-traded companies on Industrial Distribution's Big 50 List (No. 8) with a fiscal calendar that doesn't follow the traditional January-December timeline — reported its 2021 third quarter financial results on Thursday. The results were led sales that returned to year-over-year growth after four straight quarters of considerable decline tied to market impacts from the COVID-19 pandemic.
For its January-March quarter, Applied reported total sales of $841 million, up 1.2 percent year-over-year, with organic sales up 0.4 percent — far better than the 3 to 4 percent organic decline the company forecasted in its Q2 earnings report. That overall sales gain compares with Q2 sales that were down 9.9 percent year-over-year and Q1 sales that were down 12.7 percent. Sequentially, Applied's sales improved 12.0 percent from the October-December quarter.
Applied's modest Q3 organic sales gain was comprised of a 0.4 percent year-over-year increase in its Service Center segment (69 percent of business) and a 0.2 percent increase in its Fluid Power & Flow Control segment (31 percent of business). That organic gain was a considerable improvement compared to a -10.5 percent organic decline in Q2 and up 8 percent sequentially compared to a Q3/Q2 average of 2.5 percent growth from Applied's fiscal 2015-2019.
Applied said 17 of its top 30 industry verticals showed sales growth during Q3, with the strongest growth in food & beverage, aggregates, technology, chemicals, lumber & wood, pulp & paper, and transportation.
Applied reported a Q3 operating profit of $74 million, gross margin of 29.4 percent and a net profit of $56 million.
"Sales exceeded our expectations and grew slightly over the prior year reflecting improving end-market demand and our industry position," said Neil Schrimsher, Applied president and CEO. "At the same time, we expanded gross margins and leveraged a leaner cost structure that has been refined over the past year. These dynamics more than offset the elimination of various temporary cost actions and drove favorable earnings growth, while our working capital initiatives continue to support cash flow. Results highlight Applied's strong execution and potential as the next phase of the industrial economy unfolds."
Schrimsher added that Applied's April organic sales were up about 10 percent year-over-year through Thursday. The company is projecting Q4 (April-June) organic sales to increase 12 to 13 percent year-over-year. Applied said its near-term focus is on M&A and internal growth investments.