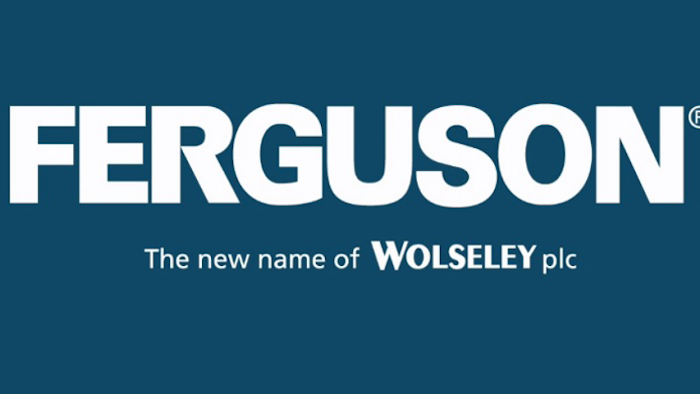 London, England-based Ferguson — which rebranded and changed its company name from Wolseley effective July 31 — reported its fiscal results on Tuesday for its full year that ended July 31.
The plumbing and heating supplies distributor reported total 2017 ongoing sales of $18.9 billion — up 8.6 percent year-over-year on a constant currency basis and up 6 percent on a like-for-like basis.
The company's strong U.S. sales boosted ongoing business trading profit 8.7 percent on a constant currency basis from 2016 to $1.3 billion.
Ferguson said it did about 79 percent of 2017 sales ($15.0 billion) in the U.S. That percentage was the primary reason the company recently rebranded — to reflect its U.S. based Ferguson subsidiary. U.S. sales grew 7.1 percent year-over-year on a like-for-like basis.
The company also said 20 percent of its full year sales came via e-commerce, with 22 percent of U.S. sales happening online.
In the U.S., sales performance by business segment were:
Residential (50 percent of total U.S. sales): +9-10 percent organic growth
Commercial (35 percent of total): +7-8 percent organic growth
Civil/Infrastructure (7.5 percent of total): +4-5 percent organic growth
Industrial (7.5 percent of total): Flat
Though flat, the group said industrial sales recovered throughout the second half of its 2017 after a weak first half. At 7.5 percent of total U.S. sales, the company's 2017 total industrial sales would equate to $1.1 billion — flat compared to 2016.
Ferguson's U.S. industrial segment — Wolseley Industrial Group, based in Newport News, VA — was No. 16 on Industrial Distribution's 2017 Big 50 List.
In mid-August, Ferguson announced that Rob Braig has assumed responsibility of strategy for the company's industrial group.
Ferguson announces the appointment of Alex Hutcherson as Chief Operating Officer. In his new role, Hutcherson is responsible for the national execution of our strategy and has direct responsibility for Ferguson's sourcing, supply chain, product management, change management, national sales and corporate services teams. He succeeds Kevin Murphy, who was recently named CEO.
Hutcherson joined Ferguson in 1988 as a trainee in Cocoa Beach, Florida. He has held numerous positions within the organization for more than 29 years, including branch manager, general manager and area manager. In 2012, Hutcherson was promoted to vice president of HVAC and took on the senior vice president of HVAC role in 2016.