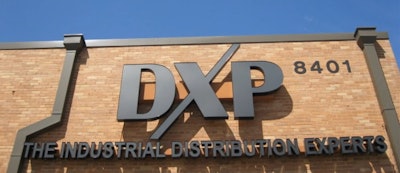 Houston-based DXP Enterprises — No. 19 on Industrial Distribution's 2016 Big 50 List — reported its 2016 second quarter financial results on Monday, highlighted by continued large year-over-year sales declines due to weakness in upstream and midstream oil and gas end markets.
The company posted Q3 sales of $230.0 million, down 10.2 percent from Q2 and down 24.1 percent year-over-year. Organic sales declined 25.1 percent YOY. By business segment:
Service Centers Q3 sales of $152.0 million was down 6.1 percent from Q2 and down 23.7 percent year-over-year.
Innovative Pumping Solutions Q3 sales of $39.8 million were down 26.7 percent from Q2 and down 35.2 percent YOY.
Supply Chain Services Q3 sales of $38.2 million were down 4.6 percent from Q2 and down 4.5 percent YOY.
For all three segments, the DXP said the sales decreases were primarily the result of decreased sales to customers in the upstream and midstream oil and gas markets.
"With regard to market and DXP specifically challenges this quarter, we continue to experience challenging macro conditions," DXP CEO David Little said in the company's post-earnings conference call with analysts. "Customers have remain cautious and deliberate in their investment and spending decisions. Reflecting this environment, project delays, rolling, maintenance deferrals, extended timelines from both order placement and delivery acceptance have become norms."
The company's Q3 profit of $240,000 was an improvement from a $52.5 million loss a year earlier.
DXP reduced its Q3 selling, general and administrative expenses by $16.2 million, or 21.6 percent, year-over-year to $58.9 million.