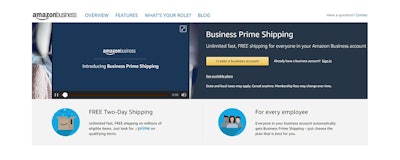 Updated at 8:22 a.m. on Oct. 25
On Tuesday, Amazon Business announced that it has launched Business Prime Shipping, a paid annual membership program for registered multi-user business customers in the U.S. and Germany — which were the first two countries Amazon Business was launched in.
Amazon says that in the U.S., Business Prime Shipping offers unlimited free two-day shipping on eligible items for all users on an Amazon Business account. Customers can sign up for a free 30-day trial at www.amazon.com/businessprimeshipping.
"Business Prime Shipping combines the wide selection of products available to Amazon Business customers, with the speed and convenience that customers have come to know and love from Amazon Prime," said Greg Greeley, Vice President of Amazon Prime. "We are excited to introduce a shipping program designed to meet the needs of businesses and will continue to innovate on behalf of customers to make business purchasing even easier."
Amazon Business customers can sign up for an annual Business Prime Shipping membership based on the number of users on their business account: $499 for up to 10 users, $1,299 for up to 100 users, and $10,099 for over 100 users. Once the customer selects the appropriate membership, all users on the account will receive an email notifying them that Business Prime Shipping has been enabled. Any new user added to an existing Amazon Business account with Business Prime Shipping will be automatically enrolled in this membership.
"Business Prime Shipping enables businesses with multiple users to further simplify their procurement procedures and increasingly rely on Amazon Business to deliver," Amazon Business vice president Prentis Wilson said. "Customers can now get unlimited fast delivery across their organization on a vast selection of products while maintaining increased visibility on their business purchases."
Upon the news, shares of W.W. Grainger's stock fell more than 5 percent Tuesday, Fastenal fell more than 3 percent, and both continued to slide Wednesday, among other large distributors. Analysts from global investment bank RBC Capital Markets told CNBC, "Given parent Amazon's deep pockets and apparent margin insensitivity, we continue to believe that Grainger will be drawn into further price competition, putting more pressure on its gross margin."
On Wednesday, Grainger senior director of external affairs, Joe Micucci, issued the following statement to Industrial Distribution and other media outlets:
The majority of Grainger's U.S. customers do not pay freight, as freight costs are embedded in our contracts.  Grainger also offers freight advantaged programs, such as Red Pass Plus, which include free freight with a flat annual fee for non-contract customers.  Zoro customers do not pay freight on orders above $50.  Grainger has a history of providing competitive freight options for next day service. — Joe Micucci, Grainger Senior Director - External Affairs
In 2016, 60 percent of Grainger's total sales came via e-commerce, and the company's 2017 third quarter financial report — posted Oct. 17 — seemed to indicate that figure has grown further this year. Back in March, Grainger CEO D.G. Macpherson said he expects e-commerce to comprise 80 percent of the company's sales by 2022.
Amazon Prime has been available on its B2C side since 2005. Currently, its membership receives free one-day delivery and other benefits for a monthly fee ($99 for 12 months). As of April 2017, Prime has more than 80 million paying users.
The Business Prime announcement is the latest evidence that Amazon is investing heavily into its B2B unit, which launched in April of 2015 after it absorbed AmazonSupply. On Oct. 10, Amazon Business announced it had expanded to Japan and India, making it available in five countries, including the U.S., U.K. and Germany. The news also shows Amazon is trying to have its B2B shopping experience resemble the B2C experience as closely as possible.
In late July of this year, Amazon announced that it had surpassed 1 million Amazon Business customers since its launch.