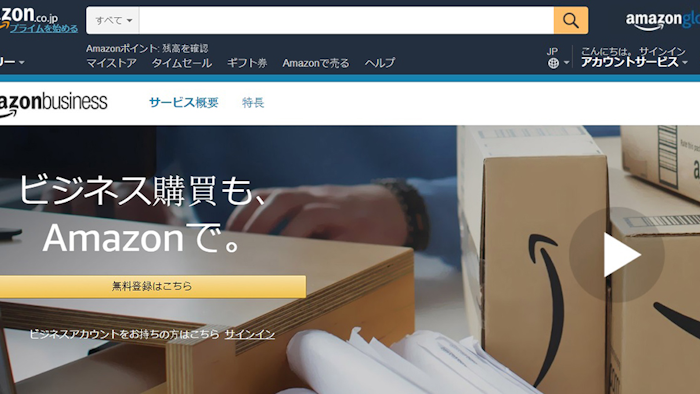 Amazon Business announced Tuesday that it is now available in in Japan and India, making the business supply side of the e-commerce giant available to five countries as of Oct. 10 — the U.S., U.K., Germany, India and Japan.
Expanding to Japan means that Amazon Business is now available in five of the world's six biggest economies by gross domestic product. According to Investopedia, which cites data from the International Monetary Fund's World Economic Outlook Database in April 2017, the top 10 world economies are:
United States
China
Japan
Germany
United Kingdom
India
France
Brazil
Italy
Canada
Amazon has periodically given updates about the growth of Amazon Business, with the most recent being on July 26, when it announced it had surpassed 1 million customers since its April 2015 launch. Amazon Business — which provides features such as multi-user accounts, business-only pricing, reporting/analytics and customer support for procurement — said it had more than 85,000 individual business sellers as of late July, early double the 45,000 it reported in January of this year. At the start of 2017, Amazon Business had more than 400,000 sellers. Chances are Amazon will provide another update this coming January.
Amazon Business' rapid growth suggests that it could serve as the 'fourth pillar' that Amazon has been driving for to complement its e-commerce marketplace, Amazon Prime and Amazon Web Services.
Amazon Business — formerly AmazonSupply — launched in Germany in December of 2016 and in the U.K. this past April.
So where to next for Amazon Business? Amazon as a whole has struggled to gain traction in China, where it had only 1.3 percent of the e-commerce market in 2016 as it contents against Alibaba and JD.com. Amazon launched its Prime membership in China in October 2016.
Going by economy size, France seems due next Amazon Business. The Paris market would give the e-tailer a business stronghold in far West Europe, and Amazon is already reportedly gearing up for physical expansion and distribution partnerships or acquisitions there.
Canada is another logical choice, given its No. 10 GDP size and geographical proximinity, with Amazon's Seattle world headquarters is only 120 miles from the Canadian border.
However, I wouldn't be surprised at all to see Amazon Business launch next in The Netherlands. Despite a population of only about 17 million, the country has the world's 18th-largest GDP as of 2016 and is often cited as the logistical heart of Europe. Forbes ranked Holland as the seventh-best country for business in 2017. I learned all about The Netherlands' logistical and economical prowness last October during a week-long press tour there (Part 1, Part 2, Part 3).
Here are Amazon Business' five current country websites: