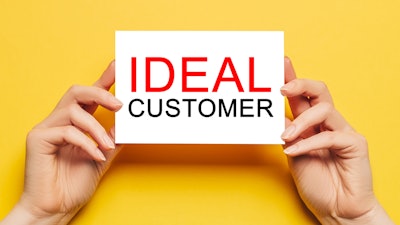 iStock
The WBSRocks e-commerce roundtable features industry experts sharing their perspectives on issues critical to the manufacturers' e-commerce journey. In this issue, we ask: why identifying your ideal customer profile (ICP) is foundational to the success of your e-commerce efforts.
Most companies struggle to identify their ICP just because no two customers are the same regarding their needs and expectations. But its purpose is to identify the right customer groups who will benefit most from your offerings. Of course, depending upon your strategic drivers, whether your goal is to gain a larger market share or earn the most profits, the ICP could differ. But the success of e-commerce efforts depends upon how accurately you can identify your ICP.
Sam Gupta, Principal Consultant, ElevatIQ
In the physical world, when you are selling through a store or through distributors, identifying your ideal customer profile is not as critical. It is because your customers might buy from you as you may have a strategic advantage of being the only store in that neighborhood. Or you might be the only manufacturer who might have a relationship with the distributor.
While these strategic advantages could work in your favor in the physical world, they would be flagged as "biased" in Google's books or the digital world. Google wants you to communicate who your ideal customers are and how it should be interpreting your position for each of your pages and domain. Your ideal customer profile also drives your branding and targeting strategy, as your marketing spend may not be as effective if you don't identify your ideal customer profile accurately.
Let's take an example of a scenario in the physical world to illustrate how this works. Imagine if you said your ideal customer profile would be any manufacturer that produces widgets. There may be several thousand companies that might meet this criterion. Now, suppose you asked your sales team to cold call all of them. In that case, it would be nearly impossible to target these many companies unless you hired an army of salespeople, which would obviously be prohibitively expensive. And there is a very good chance that you might still not find any business.
This is exactly how the digital world operates. If you tried to compete on every keyword and had a really generic position, no one will understand what you really do and if you are the right company to contact when they may have a need. Google likes to think just like your customers. If your customers won't understand what you offer, there is a very good chance that Google won't understand it either. So narrowing down your ICP is essential for Google to know what you do and who they should send your way.
Kristina Harrington, President, GenAlpha
At GenAlpha, we strive to have a relentless focus on our customers. And we can't do that without identifying our ideal customer profile (ICP). It applies to most organizations, no matter what business you are in. So now that you understand the importance of ICP, let's review the questions that matter the most to identify your ICP:
Who are they, and where are they located?
What do their businesses look like, and what do they do?
Why do they need you? What problem do you solve, and why should they care?
The process of identifying ICP may further be complicated if it gets intermingled with customer personas. In that case, the questions are slightly different:
Who makes the product decisions related to the products you offer?
What role do they have related to the problems your company solves, or what risk are you helping them eliminate?
Going through both of the above exercises will offer two primary benefits:
Organizational alignment - if communicated properly, members of your entire organization will focus on the right customers and, specifically, the problems you solve. It will provide consistent messaging to current and future clients.
Focused marketing efforts - by narrowing your focus to key prospects, you will realize better results from your marketing spend.
Dave Meyer, President, BizzyWeb
With ICP, it is essential to identify who your favorite customers are but who are also most profitable. If you already have customers and capture their data in the CRM or ERP system, they might help you identify the most profitable customers. While website traffic is important, it might be counterproductive if you have too much traffic and very few are willing to buy your product or services. This unnecessary traffic might not be the most representative of your ideal customer profile.
For your e-commerce effort to succeed, advertising and SEO would be the most commonly used methods to drive traffic and ultimately convert them into customers. However, the SEO efforts take a long time to pay off. And they might take even longer if you don't have the accurate customer profile identified, as your keyword strategy is driven by your understanding of your target market and deep understanding of your customer profile.
It may seem like a chicken and egg problem for the companies newer in the market or starting their e-commerce strategy for the first time. However, this is where advertising could be handy as it helps identify keywords you want to rank for since it allows you to do rapid-fire hypothesis testing. It takes about six months to get a keyword to start ranking and understanding what word is working or not. So having that done as one of the first things for your website will set you up for success.
The goal of ICP is to be as useful as possible to the people that matter the most. So, understand how success looks for them and use that as the lowest common denominator to drive your e-commerce strategy.