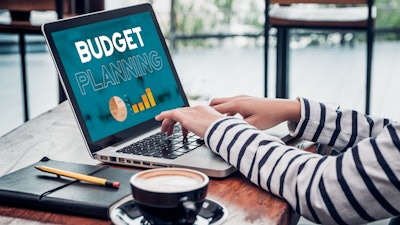 iStock
The WBSRocks e-commerce roundtable features industry experts sharing their perspectives on issues critical to the manufacturers' e-commerce journey. In this issue, we ask: how to plan an e-commerce budget for long-term success.
When it comes to budgeting for E-commerce initiatives, it is no different than planning for a new store or a business unit. Most businesses think of E-commerce initiatives as easy as setting up a website, but unless you plan for all the necessary costs, you might not have clear visibility into the success of your e-commerce efforts.
Sam Gupta, Principal Consultant, ElevatIQ
E-commerce is an excellent channel without requiring investment in a store location, equipment, inventory, supply chain costs, etc. But manufacturers rarely view e-commerce initiatives as true expansion opportunities. This belief exists primarily due to the misunderstanding of how to plan and budget e-commerce initiatives.
To clarify further, while you have several technology options available that allow you to get the ground running with your e-commerce infrastructure, you need to continuously plan all necessary costs and expected revenues that enable the e-commerce channel. These elements could include advertising and marketing spend and integration with channels and CRM to track and measure. It should also include continuous investment in your website infrastructure to ensure that the customer journeys are being reflected on the site as their expectations change as you learn more from their shopping behaviors. Finally, the other elements include inventory allocated for e-commerce efforts and the staff assigned to serve e-commerce customers.
The planning may be even trickier for the companies starting on their e-commerce journey. If you are in this camp, you might want to test a few products that can provide enough data to expand your efforts. However, placing too many products and exploring several channels simultaneously can burn your cash quickly. Also, you need to align your operational plan with your marketing plan. Otherwise, you may end up locking too much cash in your inventory without getting enough sales from your e-commerce channels.
Finally, you need to keep in mind that not all of the investments will yield immediate returns. For example, expenses related to branding or SEO will pay off in the long term but are essential for your e-commerce initiatives. A good rule of thumb is to follow the 80-20 rule where 80% of your investments should be attributable to your short-term goals, while 20% should be for the long-term. Also, if you have never invested in E-commerce, your long-term costs may be higher initially, and these percentages could potentially be 60-40 or 70-30. But your goals should be to attain 80-20 once you have the product, market, and channel fit identified for a few of your products.
Kristina Harrington, President, GenAlpha
When planning a successful eCommerce implementation, remember to budget for these five critical items:
People - an experienced eCommerce leader with a cross-functional team of committed resources will help you avoid common pitfalls. This team is typically responsible for requirements gathering, vendor evaluation, launch, and adoption of your new website. This is a great area to leverage third-party agencies as they will bring experience in aligning the interests of the cross-functional teams, which is typically harder for internal leaders.
Technology - when evaluating vendor solutions include both the one-time costs (which often can be capitalized) and ongoing costs. One-time costs may include initial deployment, integrations to other business systems (ERP, CRM, PIM, etc.), and any special or custom development. Ongoing expenses will include hosting and the subscription fee or licenses involved with maintaining the site.
Data - investing in high-quality product data is critical to your success. Also, make sure to budget for the resources and tools required to develop detailed product specifications, keyword-rich descriptions, well-organized categorization, and clean images.
Fulfillment - when completing your requirements gathering, it is important to identify the inventory and warehousing needs required to meet your eCommerce goals. The factors such as product availability and speed of delivery may impact product conversions. Carefully plan this area.
Marketing - to be successful with your eCommerce channel, you cannot set it and forget it or expect to build it, and they will come. Email marketing, social media promotion, and search engine optimization (SEO) strategies are just a few of the marketing activities you will need to deploy to ensure traffic to your website.
Building a thriving online business is a long-term strategy. So, remember to budget for the journey and not just the initial investment.