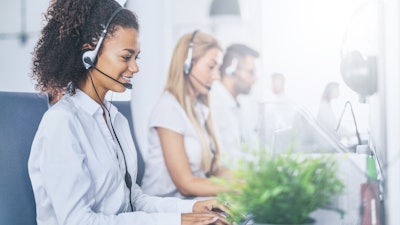 iStock
The WBSRocks e-commerce roundtable features industry experts sharing their perspectives on issues critical to the manufacturers' e-commerce journey. In this issue, we ask: how can effective customer service strategies affect loyalty?
When it comes to customer service, you will often hear how important it is to provide extraordinary service. But in reality, consistency matters more than perfection. To provide a consistent service aligned to customers' expectations through digital and facilitate it through physical channels, you need a reliable and personable e-commerce infrastructure.
Sam Gupta, Principal Consultant, ElevatIQ
The alignment of all elements that impact customer service is most critical to enabling consistency across physical or digital channels.
These elements could include:
the incentive and training of the reps
the quality of customer service systems
the metrics to measure the success of customer service
To illustrate, let's consider a scenario. Let's say you have hired and trained reps to listen to customers and be empathetic. However, even if you do this, the help may come across as artificial as customers may not be patient for very long if there are repeated issues with the product or their interactions with the website.
So, rather than focusing on one aspect of customer service, you should take a balanced approach to provide a consistent experience. For example, instead of investing all your customer service budget in hiring and training the best customer service team, your strategy could be to balance your investments in all customer service elements such as product, messaging, packaging, website, and human resources. This strategy would allow them to know that while they might not be working with the best provider, but at least there wouldn't be any surprises. Removing the element of surprise helps consumers to come back and trust your brand more.
This alignment also needs to be in terms of how you measure and reward your customer service reps. For example, if you created a customer service strategy to get a five-star rating after each call, they might be more focused on getting their performance rated, even if it means wasting time for customers. On the other hand, suppose you rewarded them based on the customer's successful retention and lifetime value. In that case, the reps might not focus as much on a superficial metric such as Net Promoter Score (NPS) or ratings, but they will go out of their way to make them successful.
The only way the customer is likely to stay with your brand is if they are really happy and don't have another alternative that might provide a more consistent and superior experience than you.
Eric Landmann, Ecommerce Division Manager, Earthling Interactive
Ecommerce customers' expectations for higher customer service have risen over time. While the experience could include digital and non-digital touches even with E-commerce customers, their journey on the website is perhaps most crucial. The site needs to provide more information, ways to find and sort products or information that are sensible in their usable terms, navigation that makes sense.
From a development perspective, some techniques include:
Navigation categories and product filters that make sense for your customer audience
Live in-person help to assist the customers (be clear about staffing hours)
Advanced product configurators that show product visualization (colors, 3D rotation, product options)
Live in-person shopping assistance.
A contact form (basic!) with email, phone number, and chat links, and any other relevant info (perhaps local pickup directions)
Although it might be counter-intuitive, the personal touch is still essential even for e-commerce. The touch could include providing personalized journeys on the website or sales professionals turning into coach roles to guide them with their technical issues or questions.
Personalized customer service is a surefire way to retain customer loyalty.