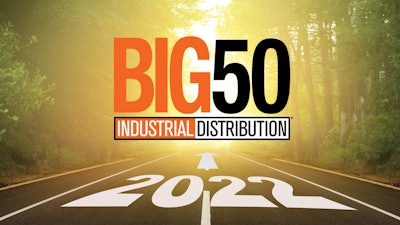 To say 2021 was tumultuous might detract from just how much more dramatic a business environment we lived with the year prior. And while the days of shutdowns, hand sanitizer and KN95s may be over, they've been replaced by supply chain hurdles, worker shortages and inflation. At this point, were industrial businesses in possession of a crystal ball, would they even want to look?
Though it's tempting to want to shield our eyes from the bright chaos we know will continue — at least in the short term — it's a necessary exercise to facilitate shoring up the right resources and, hopefully, identifying strategic opportunities coming down the pipeline.
Big 50 Weigh In
In mid-summer, as we put together Industrial Distribution's 2021 Big 50 List, we sought input not only on revenue numbers from the industry's biggest, but also their perspectives on the future efforts of their companies.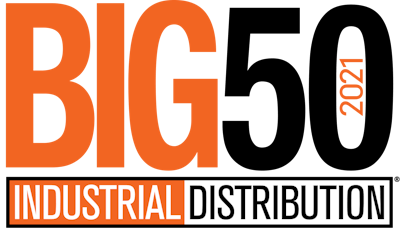 And while Big 50 companies might not represent the critical issues of the industry as a whole (consider, for example, how small distributors may be more heavily impacted by shortages), we do know that their perspectives offer a high-level view of the industrial market and its various headwinds.
As of late summer, Big 50 distributors look to lead the charge in several investment categories heading into next year. When we asked distributors to identify their strategic goals for 2022:
77 percent of Big 50 company respondents said that they are looking to add new product lines.

67 percent said that growth via mergers and acquisitions would be part of their plan.

63 percent are hoping to add staff.

43 percent said they have plans for physical expansions, including adding branches or locations.

43 percent also said they had plans to expand their base of suppliers.
Big 50 companies also had a lot to add about the other areas of their business they determined would be ripe for growth in 2022. For some, this centers on internal business development, including investments in digital infrastrastructure, employees or training. For others, this means looking outwards towards line growth or strategic acquisitions. (For more growth objectives from Big 50 List companies, see the 'Objective Criteria' segment below)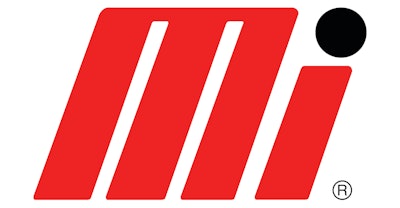 The No. 3 distributor on this year's list was Birmingham, AL-based Motion, a company for which 2021 has been so successful, its parent company GPC boosted its outlook after reporting Q3 earnings in late October. That said, it's not been without its obstacles, with CEO Randy Breaux telling ID that 2021 has been "an interesting year to say the least." Breaux added that the company's rebound from 2020 came quicker than expected, and it hasn't really seen much of a slowdown since. "What we have seen, however," he elaborates, "is something not experienced in decades: the return of supply chain shortages and increasing inflation in the form of multiple price increases throughout the year from our manufacturer partners."
Adds Breaux, "We certainly expect business to hold pretty steady for the balance of the year and then carry momentum into 2022. We do not expect the issues related to supply chain to improve much in the short term, but hopefully, we will see some stabilization in the second half of 2022. All indications are that PMI and industrial production should remain in growth mode, and Motion is fortunately in a great position — through investments made over the past couple of years in warehouse automation, data-driven procurement strategies and other management practices — to take advantage of the continued economic demand and growth in the near future."

Motion's chief executive isn't alone in identifying supply chain challenges and their toll. In the latest earnings call with investors, MSC Industrial Supply CEO Erik Gershwind struck a similar tone, saying "The supply chain shortages and disruptions that we began to see in our fiscal third quarter have increased and, while hard to quantify, are constraining growth across the industrial economy in the near-term. Product scarcity, freight delays and extreme labor shortages are also resulting in significant inflationary pressures."
But like Motion, MSC seems well-positioned to respond to the related pressures, and the data backs it up: For its June-August Q4 period, MSC reported total sales of $831 million, up 11.1 percent year-over-year, suggesting momentum in core markets. Added Gershwind, "We are well-positioned to navigate the current environment, particularly when compared to the local and regional distributors who make up 70 percent of our market. MSC's broad, multi-brand product assortment, high inventory levels, strong supplier relationships and next-day delivery capabilities are all strengths that allow us to accelerate market share capture."
An Eye on Cost, Management
MSC notably made significant changes to its operating model, specifically those relating to its customer service model. In January of 2021, the company announced it would move from a branch office network to virtual customer care hubs that will provide personalized support to customers, regardless of their physical location. This meant the permanent closure of 73 branches that were temporarily closed during the pandemic. At the time of the announcement, MSC said it expected the changes to achieve ongoing annual cost savings of $15 million to $18 million beginning in its fiscal 2022.

The No. 4 company on our Big 50, Fastenal, also notably closed physical locations in 2021, including 63 in its third quarter. Another area where the two companies are reacting in lockstep with market conditions are through price increases, a necessary evil that's become unavoidable for many companies in and outside of our sector. After Fastenal released its third quarter earnings in October, financial services firm Edward Jones told ID that it expects Fastenal will "remain disciplined on pricing and focus on operational expenses to help offset pressures on profitability." Whether this means more branch closures remains to be seen, but it's certainly possible that Fastenal will continue to explore cost-cutting measures that take advantage of work-from-home trends across all industries.
Outside of this focus on cost, many of our Big 50 List companies have undertaken some changes at the executive level. Whether due to timing (retirements increased across all industries during the pandemic) or a desire to change course, there seemed to be a flurry of executive changes taking place this year. Wajax announced in October that its CEO Mark Foote would retire at the end of the year, and Ohio Transmission appointed a new chief executive in August. MSC announced both a new CFO and senior VP of sales this year and Grainger appointed a new CFO as well.

Unlike its peers, Grainger doesn't see closures on the horizon, saying in June of 2021 that they liked their footprint as-is. Despite around 70 percent of revenues coming from digital channels, Chairman and CEO D.G. Macpherson told ID that "We feel like we're at a place where our branch number will be pretty level as long as we can continue to see modest growth, and we're asking our branches to do some different things. We want to be local." More evidence of Grainger taking an opposite approach to MSC, the company announced Nov. 1 that it will add 100 customer service jobs to be staffed onsite at its new customer service center at its Lake County, IL headquarters, slated to open in January.
More recently, Macpherson told ID he was immensely proud of the Grainger team and how they performed in the face of a dynamic market. "Our customers, suppliers and carriers are working harder than ever to live Grainger's purpose: We Keep the World Working," said Macpherson. He added that the company does expect continued supply chain challenges in 2022 as transportation, production and labor issues evolve "under the ongoing ambiguity of the pandemic." However, he says, "Against these challenges, our focus will continue to be on serving our customers by following our principles, being agile and leveraging our scale to drive sustainable performance."

Year-Over-Year… Over Year?
Looking backwards, it's a bit hard to recall exactly where the shifts began to occur, but as Macpherson aptly words, "the ongoing ambiguity of the pandemic" continues to color nearly every aspect of business. In our final issue of 2020, we explored the impacts of the pandemic to date and, at the time, we reported how many of the companies on our Big 50 List posted year-over-year sales declines, often in the double digits. We already see that 2021 is different, but will 2022 offer a respite from the headwinds and allow businesses to truly optimize the growth potential driven by massive demand? If the top distributors in our industry are right, then we're in for a bit of a bumpy road back to normalcy.
Despite this, industrial analysts predict strong spending in several areas. The labor shortage will continue to drive capital equipment buys, especially in automation and other productivity-specific areas. Adding to that, Research and Markets projects the MRO market will grow at a CAGR of 2.3 percent between 2021 and 2026 to reach a value of USD $787.2 billion by 2026. Gains based on demand in these categories, however, will be offset by supply chain challenges experts believe will continue for months, at a minimum. And as shipping backups, container shortages and material chain hiccups continue, Forbes says there is "no end in sight" to the disruption.
That said, some analysts predict slow easing of some of the more paramount issues. As reported by Reuters, Goldman Sachs strategists believe there have been some "tentative signs of improvement from supply chain data and commodity prices." However, not all cycles are the same, with Goldman Sachs suggesting labor market tightness could be a challenge "for many companies for years." For the glass-half-full perspective on labor, look to recent data from Indeed, whose recent survey suggests that nearly a quarter of unemployed people say fear of the virus is keeping their job search "non-urgent." If we're fortunate enough to see continued declines nationally in COVID-19 cases, businesses could see an influx in available workers, a boon that would help distributors manage the boost in demand we expect to continue into the coming year.
Objective Criteria
Big 50 companies tell us which areas of their businesses they consider ripe for growth in the coming year.
SBP Holdings (#24): "Emphasis on digital marketing, expanding services as well as our M&A activity."
Banner Industries (#50): "Further strengthen our core so that we'll be able to support future organic growth. Filtration is an area (where) Banner sees significant growth potential."
BlackHawk Industrial (#25): "E-commerce upgrades and process automation."
Valin Corporation (#49): "We completed two acquisitions during the second half of 2021. We will continue to invest during 2022 in human capital, services and acquisitions that align with our business strategies and growth initiatives."
Winsupply (#5): "Winsupply is committed to expanding the Spirit of Opportunity by helping courageous, capable, hardworking entrepreneurs succeed. Winsupply is constantly improving ways to empower existing local companies as well as find new entrepreneurs and companies to join the Winsupply family of companies."
Kaman Distribution Group (#18): "Talent, M&A and e-commerce are major investment areas for the company in 2022."
Wurth Industry North America (#11): "Würth Industry North America serves four key vertical markets: Industrial, Construction, Safety/MRO/Metalworking, and Specialty, including Marine and 3D Printing; we look forward to continuing to expand the products and services we offer through acquisitions within these vertical divisions in 2022. Backed by our parent company, the Würth Group, we are privately held, family-owned, and financially strong (€14.4B 2020 annual sales), so we are well-poised to act on customer-centric investment opportunities."
Hisco (#34): "The aerospace and medical device manufacturing market segments are key growth areas for Hisco, specifically medical device and the custom converting opportunities of that market."
Fastenal (#4): "Our goal is to be the most agile and efficient global supply chain partner for our customers. To that end, we will continue to invest in our people (to provide great service and expertise), in our operations (to ensure a resilient and cost-effective supply chain), and in expanding our digital footprint (currently at 42 percent of sales, to help our customers digitize, automate, and illuminate their supply chain for a wide range of product needs)."