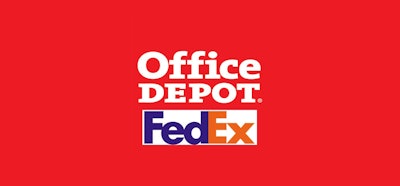 BOCA RATON, Fla. — Office Depot announced Tuesday the expansion of its relationship with FedEx, which, beginning Sept. 2, is offering customers in 1,513 retail locations throughout the country access to FedEx shipping services and solutions.
The convenience of Office Depot's retail store footprint and extended hours — open early in the morning, late at night and on weekends — combined with the FedEx global network makes the company's stores a one-stop-shopping and shipping destination for customers — individual, business, small business and more.
FedEx has teamed up with OfficeMax stores since 2009 to provide convenient access to its portfolio of offerings including FedEx Express, FedEx Ground and FedEx International services. In addition, customers will have access to a number of additional service options, including signature confirmation and Saturday delivery.
"The seven-year relationship with FedEx has proven to be beneficial not only for our companies, but for the customers we serve," said Ron Lalla, executive vice president of merchandising for Office Depot, Inc. "We have seen an increase in the use of FedEx shipping services and solutions in our OfficeMax retail stores, and look forward to rolling them out to our entire chain early next month."
Customers have the flexibility and convenience of choosing from these service and solution options in all Office Depot and OfficeMax retail stores:
Express, International, Ground (1-5 days depending on location)

FedEx Express — FedEx First Overnight, FedEx Priority Overnight, FedEx Standard Overnight, FedEx 2Day A.M., FedEx Express Saver
FedEx International Priority, FedEx International Economy, FedEx International Ground
FedEx Ground — FedEx Ground Commercial, FedEx Home Delivery
Not only can customers drop off packages as late as 9 p.m. ET Monday through Friday, 8 p.m. on Saturday, and 7 p.m. on Sunday in most Office Depot and OfficeMax locations, but FedEx Ground is also faster to more locations than its primary competitor.
In addition, retail store associates will prepare packages including shipping documents for customers, and accept pre-labeled FedEx Express and FedEx Ground packages for drop-off.
"With this expansion, FedEx is significantly increasing the number of locations that give busy customers convenient new options to ship and drop off packages," said Randy Scarborough, vice president of marketing at FedEx. "FedEx is proud to work with nationally-recognized retail brands like Office Depot and OfficeMax.