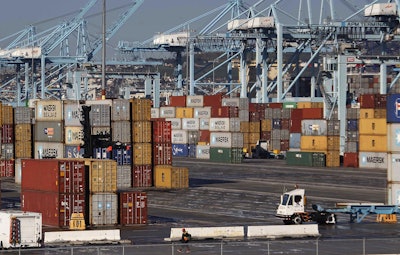 Port operators along the U.S. West Coast will discuss a contract extension with dockworkers after a previous dispute resulted in near-gridlock conditions at some of the nation's busiest ports last year.
Delegates of the International Longshore and Warehouse Union last week approved a request for extension talks from the Pacific Maritime Association, The Wall Street Journal reports.
The union represents about 20,000 workers at 29 ports along the Pacific Coast. Their current contract — agreed to in early 2015 and not set to expire until 2019 — was signed months after the previous deal lapsed in mid-2014.
In the interim, the PMA blamed the union for deliberately slowing port operations, while the ILWU suggested that workers lacked the equipment to deal with growing cargo loads. The impasse resulted in massive backlogs that took weeks to clear following the 2015 contract agreement.
The port operators reportedly requested extension discussions in an effort to avoid similar problems in three years. Although union delegates were split on how to respond, they ultimately agreed to what ILWU President Robert McEllrath called "a directive to go and have discussions with the PMA and report back to the membership."