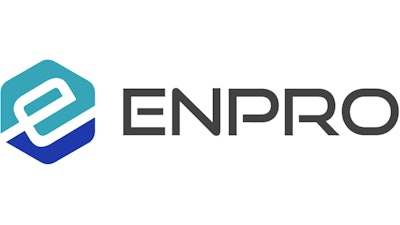 CHARLOTTE, N.C. — EnPro Industries, Inc. announced Thursday that, in recognition of its forward strategy and successful portfolio optimization, it will change its corporate name to Enpro Inc., effective at 11:59 p.m. Eastern on Dec. 1.
"Our new name better reflects the Enpro of today following our successful transformation to reshape our portfolio and create a more resilient business model," said Eric Vaillancourt, president and chief executive officer. "Our evolution has been possible because of the incredible work of the Enpro team to advance our key strategic imperatives and deliver for our customers. We are excited to move forward as Enpro Inc. as we continue to advance innovation, expand our leading-edge capabilities and drive profitable growth."
The ticker symbol for Enpro's common stock on the New York Stock Exchange will continue to be "NPO" and the CUSIP numbers for its securities, including its common stock, will remain unchanged. No action is required by shareholders in connection with the name change.
Beginning Dec. 1, Enpro's corporate website will be enpro.com and its prior corporate web address will redirect to that site.