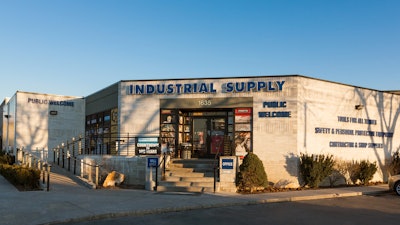 Industrial Supply Co.
This week, Industrial Distribution's annual "Watch List" examines Industrial Supply Company Inc., which continues to expand its footprint across the Intermountain West after more than a century in business.
Like the first company on this year's list, Riverhawk Industrial Supply, ISC began as a mining supply operation. Rudolph Orlob founded the company's predecessor, Mountain States Rubber Company, in 1916, and established Industrial Supply some 10 years later to serve other sectors in Utah amid the "Roaring '20s."
By mid-century, the company's customers included public utilities, steel producers and construction companies; in the latter part of the 20th century, it embraced the area's growing aerospace and national defense segments.
In the past five years, Industrial Supply has acquired cutting tool distributor and fellow Salt Lake City company Paxton Production Tools, relocated existing branches in Utah and Nevada to accommodate larger capacities, and expanded to a fourth state. The company's Chandler, Arizona, operations, launched last year, became its eighth location, joining three in Utah and two each in Nevada and Wyoming.
Industrial Supply Company — still owned by Orlob's family — touts a selection of more than 200,000 MRO and safety products serving customers from the mining, manufacturing and construction sectors to companies in electronics, aerospace, utilities, and government and defense.
- ID

Name: Industrial Supply Company Inc.
Nominated by: Affiliated Distributors
Top executive(s): Chris Bateman, CEO; Jessica Yurgaitis, president
Year founded: 1916
Headquarters location: Salt Lake City
Website: www.indsupply.com and www.directools.com
Number of locations: 8
Key product categories: MRO, safety and PPE, metalworking, janitorial
Total employee headcount: 220
Total SKU count: 200,000
Do they offer e-commerce? The company's directools.com platform was designed as a B2B solution with customized catalogs, tool allowance technology, reporting and product tracking.
Recent honors: Winner of Utah Diversity Connections' Utah Employer Diversity Award; SupplyForce Member of the Year; AD Legacy of Leadership Award; Association of General Contractors Service Supplier of the Year; ISA Lifetime Achievement Award (Phil Thompson); Women in Distribution award (Jessica Yurgaitis).
Recent company news: Industrial Supply Company acquired Paxton Production Tool in 2018. In 2022, the company moved its operations in Elko, Nevada, opened a new location in Chandler, Arizona — its first in the state — and tripled its square footage.