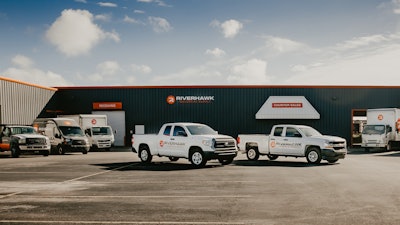 Riverhawk Industrial Supply
It can be tough sledding as a smaller company in the industrial distribution sector.
Like all distributors — and most companies, in general — they continue to deal with the ramifications of the COVID-19 pandemic and its various fallout effects, from sluggish supply chains and increasing customer demand to inflation to rising interest rates.
Small distributors, however, also face their own unique challenges — namely, competing with much larger rivals as their industry undergoes a long pattern of consolidation that shows no signs of abating.
Against all odds, though, thousands of smaller companies continue to not only survive, but thrive amid such tumultuous circumstances.
Although coverage of the distribution sector often focuses disproportionately on its largest companies — including many on this publication's annual Big 50 list — it's important to acknowledge the crucial position that smaller distributors occupy in the broader industrial market.
Each year, our Watch List examines a handful of distributors who don't boast the pure sales numbers or geographic reach of their larger counterparts, but nonetheless provide essential products and services to customers in their respective regions and end-markets. Over the next couple of weeks, we'll delve into this year's list with a look at distributors whose outstanding performance might otherwise fly under the radar.
Hailing from Central Florida, Riverhawk Industrial Supply might be a relatively new name to the industrial distribution sector, but its history dates back more than four decades.
Founded in 1980 as E&W Tool and Supply, the company was originally established to serve the local phosphate mining industry, a key component in the production of agricultural fertilizer. After decades of growth and expansion — both in its products and scale — the company decided to rename itself after the region's ubiquitous osprey in 2019.
Today, Riverhawk provides a range of industrial supplies and specialty tools — representing more than 300 vendors — to the construction, power plant, shipbuilding, maintenance and manufacturing sectors throughout Florida and into other states. The company touts a three-in-one supply chain solution, stretching from flexible ordering options to sophisticated tracking technology to repair services across over 30 brands. Riverhawk was recognized by the NetPlus Alliance last year for its performance in the Brand Champion program with Milwaukee Tool, which aims to provide exceptional products and services through education, online training, and hands-on field sales support.
- ID
Name: Riverhawk Industrial Supply
Nominated by: NetPlus Alliance
Top executive(s): Sarah Finlayson, president; Brian May, purchasing; Zach Miller, operations
Year founded: 1980, as E&W Tool and Supply
Headquarters: Mulberry, Florida
Website: www.riverhawkindustrialsupply.com
Number of locations: 1
Key product categories: Tools, safety, welding, lifting, industrial supplies, janitorial
Total employee headcount: 33
Total SKU count: 10,000
Do they offer e-commerce? Not yet.
Recent honors: Riverhawk has been recognized in multiple years by Milwaukee Tool, Harrington Hoists and Lincoln Electric for outstanding distributor growth. Sarah Finlayson received a 2021 Women in Distribution award for her entrepreneurial mindset.
Company commentary: "Riverhawk Industrial Supply is a distributor of tools, safety, welding and industrial supplies. Founded with a focus on Central Florida's phosphate industry, Riverhawk has grown into a national supplier for industrial maintenance, manufacturing and construction companies. Riverhawk's strength is building deep partnerships with customers to solve problems. This is supported by Riverhawk's ancillary services, such as tool repair, custom asset tracking software, vendor managed inventory and job site solutions."