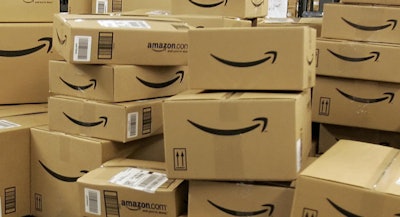 Amazon.com could soon join the world of ridesharing in an effort to streamline its shipping operations.
The Wall Street Journal, citing people familiar with the matter, reported on Tuesday that the Seattle e-commerce giant is developing a mobile app that would allow Amazon to pay ordinary people to drive packages to their destinations.
The program could somewhat resemble Roadie, an app that lets drivers collect a fee for bringing packages along for an already-planned road trip.
Instead of bringing packages from the shipper to the recipient, however, Amazon's app, called "On My Way," would move products from Amazon storage facilities to the purchaser.
The Journal report said Amazon would likely rent storage from existing brick-and-mortar stores in urban areas.
The model could help Amazon contain rising shipping costs, but industry observers expressed skepticism about whether enough drivers would sign up to make an impact or whether rival retailers would willingly let Amazon stash its orders at the expense of parcel carriers UPS or FedEx.
Others questioned who would be responsible if packages were damaged or went missing.
The proposal, according to the Journal report, stemmed from Amazon's discussions about a since-shelved Uber-type service called Rides. It's unclear what the timetable for the On My Way would be or whether it will proceed at all.