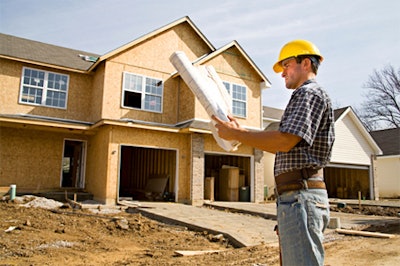 The U.S. Commerce Department reported recently that housing starts and permits fell in August but one bright spot was that the July numbers were revised upward. Groundbreaking for single-family homes, the largest part of the market, fell 2.4 percent in August to a 643,000-unit pace.
Some distributors, like HD Supply, are seeing the slowdown in the residential market affecting their sales expectations for the year.
HD Supply overall delivered solid quarterly numbers for its business units but CEO Joe DeAngelo told financial analysts in a conference call that the residential market continues to fall below expectations.
The company had expected the residential business to increase in the mid-teens this year but that number has now been revised downward to the mid-single digits.
Company officials say one reason for the residential slowdown is there has been a "lot of cautiousness" on the part of home buyers.
"We believe a slower more prolonged residential growth environment could be an attractive market environment for HD Supply to continue to deliver profitable growth," DeAngelo said, according to a transcript of the call as provided by www.seekingalpha.com. "Non-residential construction, however, has shown continued improvement and is performing slightly above our expectations that we shared earlier in the year. We're seeing emerging signs of non-residential strength in more priority markets and are cautiously optimistic that the momentum will continue. Denver, San Francisco, DC, Baltimore, Boston, Houston, Miami and Dallas are all performing well. We remain cautious as we'll need to monitor our choppy residential environment could potentially impact an improving non-residential outlook."
The non-residential market is seeing strength in the office, warehouse, hotels and motels segments while the newly-named construction and industrial group (C&I) saw sales increase a strong 16 percent compared to the same quarter last year. 
"C&I is executing very well with a high degree of focus in its 15 priority districts. The strength was broad-based as all of its regions delivered double-digit sales growth versus prior year," DeAngelo said.
HD Supply is optimistic about this year as its segments such as facilities maintenance and waterworks continues to grow. The company expects overall sales to increase four percent this year while the MRO market is forecast to grow one to two percent.
HD Supply was also pleased with the power solutions segment of its business.
"The power solutions business continued its momentum as it focuses on selling more to existing customers especially with added services content, category management and operational excellence," DeAngelo said. "Despite a continued sluggish market environment, power solutions' solid performance was broad-based with particular strength in the investor-owned utility and industrial segments. The power solutions team has momentum, driving share of wallet with existing customers, as well as securing business from new customers."