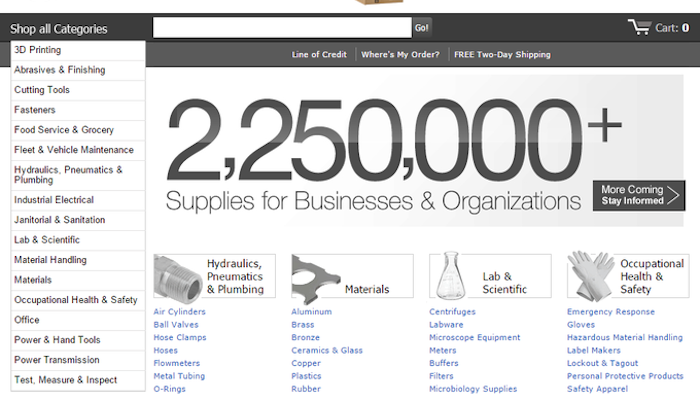 With B2B taking on an ever-increasing role across the industrial distribution landscape, and more and more suppliers adding, or enhancing user-friendly Amazon.com-like features to their websites, we can't help but wonder what AmazonSupply has in store for 2015.
The e-supplier continues to gain a larger presence as a supplier source, and now at a few months short of 3 years since its debut, this could very well be the year AmazonSupply becomes a juggernaut.
SpendMatters.com, an online source of procurement-focused research and commentary, weighed in on the outlook for B2B this week with a 2015 prediction article headlined with "Amazon, the 800-Pound Gorilla Buyer, Breaks Out of the Procurement Jungle." In it, the network sees AmazonSupply beginning to line up e-procurement partnerships this year to onboard their installed bases to the B2B giant.
The outlook SpendMatters gives for merchants holding their own is dire. "We'll need to see how this plays out, lest MRO vendors and everyone else feel like they've had the "hatchet" brought down on them like a pile of books," the article states.
Technology Solutions Company Zilliant recently commented on how electrical distributors without a competitive B2B edge may get lost in the wash of fellow companies with a standard e-commerce presence.
"Selling commodity electrical products on a website has now become a commodity itself," Zilliant said in a blog post on Dec. 4. "Many companies are competent in this space, making it harder to stand out and compete. And of course this is where Amazon will gain the most market share in the electrical distribution space — very few will be able to compete long-term with Amazon's e-commerce platform and pricing power."
Starting with 500,000 SKUs for sale in 2002, AmazonSupply's inventory has swelled to more than 2.25 million today. Back in May 2014, Forbes' Claire O'Connor also reported on the oncoming tide of AmazonSupply with a bleak outlook for the thousands of wholesalers and distributors that have only millions in revenue, and the company has made nothing but progress since.
 "Just ask your local bookstore," O'Connor wrote.