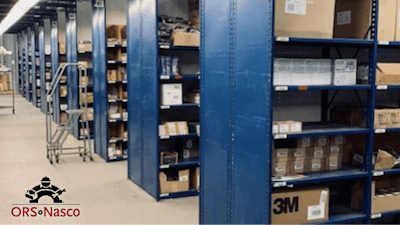 ORS Nasco
When Kevin Short took over leadership of industrial products pure-play wholesaler ORS Nasco as its chief executive officer on Jan. 2, 2020, it was less than three months after the company was privately acquired in a corporate carve-out transaction from Essendant.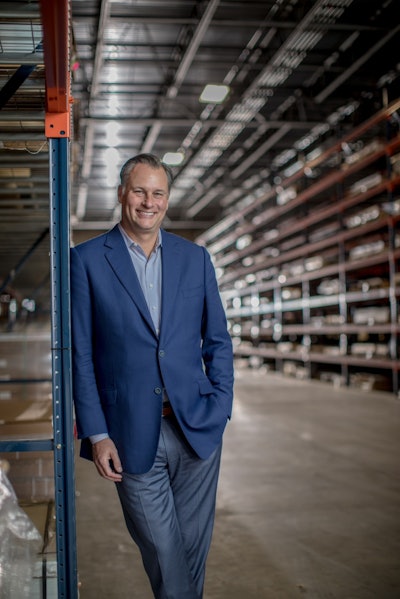 Becoming the top executive in a period of transition would be challenging enough. But just over two months into the job, Short was one of 32 industrial supply sector executives on a conference call with President Donald Trump, Vice President Mike Pence and several other White House officials to discuss the United States' response to the COVID-19 crisis.
For Short, trial-by-fire would be an understated description of his first few months with ORS after 16 years serving in executive positions at plastics distribution companies.
"As intense as this COVID-19 period has been, I will look back on it for cultivating a level of urgency and detail orientation that most chief executives don't get to after just 90 days on the job," Short told Industrial Distribution in September. "The pandemic required us to evaluate everything and all at once. What you call trial-by-fire I call jamming an advanced degree into a few short months."
Along with Kevin Short, that White House call included top executives from five distributors — MSC Industrial Supply, Grainger, Border States, Winsupply and Sonepar North America (which owns Vallen) — on ID's 2020 Big 50 List, for which wholesalers like ORS Nasco are not eligible. While the reason for the call was unfortunate, it showcased the critical role that industrial suppliers have in keeping America running, especially right now. Thus, the invitation to be on the call was a credit to ORS' reputation, as Short noted the company and sister automotive aftermarket products distributor MEDCO were deemed essential before that word became commonplace when the pandemic hit the United States in full.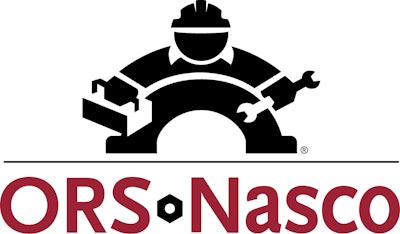 "It was an honor to collaborate directly with the President, Vice President and CEOs of some of America's finest companies in the industrial supply retail and wholesale sector," Short said. "When we were selected by the White House it was a huge boost for all our associates. Everyone wants to work with a sense of purpose and the recognition certainly augmented ours. I am extremely proud of our dedicated men and women at the distribution center level who work tirelessly to get PPE in the hands of people that need it the most."
While the first few months of 2020 were beyond hectic, taking over a newly-acquired company and then commanding its vital response to a global pandemic forced Short and the ORS executive team to rapidly get up to speed on the company's role in the industrial supply market and its supply chain capabilities.
"I learned so much about our value, our people and our culture faster and more intimately than I otherwise would have," Short detailed. "It has caused us to ask, 'Is there a better way?' sooner than we might have in a normal environment. Ultimately, we will be a much stronger organization because of it."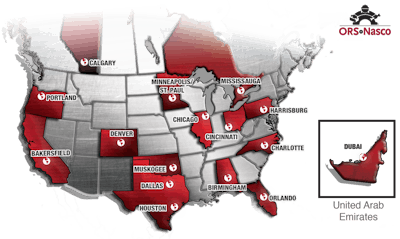 Market Role
Tulsa, OK-based ORS Nasco is North America's largest pure wholesaler of industrial supplies, with product lines including welding, safety, MRO, oilfield, PVF, plumbing, janitorial, electrical, HVAC and construction products. The company distributes premium-branded and private-label products from more than 600 brands, stocking more than 83,000 SKUs and with access to more than 200,000. ORS operates 16 distribution centers — 13 in the United States and two in Canada — along with a warehouse in Dubai.
The company's overall goal is to boost the power of independent distributors by offering shorter lead times on in-stock items, a portfolio of customized print and digital marketing support, website solutions, no order minimums and lower costs for transactions, shipping and transportation, among other services.
While the common industry term for a company with ORS' role would be master distributor, Short avoids it, citing how it doesn't do justice to everything the company does.
"I am not a fan of the phrase master distributor," Short said. "ORS Nasco is a pure play wholesaler with a robust and diverse portfolio of products and services. While we believe we add value in any economic condition, I see customers and suppliers alike reassessing their cost-to-serve and working capital objectives. More and more companies are reviving the 'total cost of acquisition' concept and when they do, we shine."
Short added that ORS Nasco recently launched a suite of value-added services that maximize the company's dedicated support teams — a critical asset for distributors navigating the pandemic.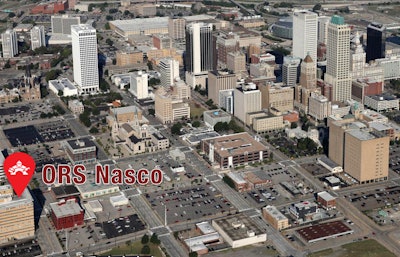 How They Got Here
ORS Nasco's name comes from New Brighton, MN-based Nasco, founded in 1959 and Muskogee, OK-based Oklahoma Rig & Supply, founded in 1968. The two merged in 2003 and the resulting company has since been selling exclusively to independent distributors as a single-source wholesaler.
ORS Nasco's ownership has changed hands several times in the past two decades. It was acquired in late 2007 from Brazos Private Equity by Essendant, which was then bought by Sycamore Partners in January 2019. The ORS carve-out completed the following October, in which MEDCO was also acquired.
The carve-out and new leadership meant 2020 was already going to be a year of transition for ORS Nasco. The pandemic added another giant business element.
"Never a dull moment," Short said about this past year. "In the last 10 months we've experienced a change in ownership, new leadership, COVID-19 and, at one point, even 'free' oil. I am incredibly proud of our leadership team, which has been poised, optimistic and nimble throughout the craziness of 2020. Not only have they kept us glued together and focused on the horizon — they've had the double duty of training me, the new guy. I'd like to say the dust is completely settled, but we're in the eighth inning."
And what did ORS' distributor customers think about the carve-out that made the company now independent?
"I spent 25 years in distribution, both in chemicals and plastics. I think I know what distributors want because I have spent the majority of my life in their shoes," Short said. "During my time as a distributor I needed quality products, quickly, at a fair price. But I wanted to do business with people I liked and trusted. I valued reliability and partners who would simply do what they had committed to. How and by whom we're owned isn't as important as who we are and what we stand for. On my first day here we announced that humility, curiosity, likeability and tenacity are the pillars from which we will recruit and the standards by which we will hold ourselves accountable. That is something I've seen our customers identify with and positively respond to."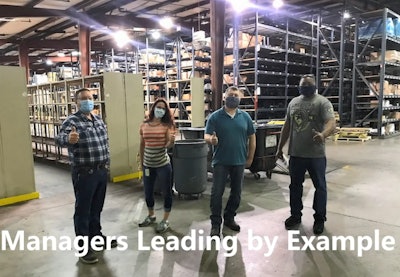 What's Ahead
Besides the financial impact, one of the biggest bummers of COVID-19 in the manufacturing sector has been the complete wipeout of essentially all in-person tradeshows, conventions and other industry events. Independent distributors place a platinum value on face-to-face networking and selling, making those in-person events highly anticipated. It's been especially unfortunate for a wholesaler under new ownership and with a new CEO looking to promote the company.
"Personally, this has been a major disappointment," Short acknowledged. "In my first year I had practically every industry event calendarized. What better way for me to meet the influencers of this incredible industry, right? To those whom I haven't yet met, my cell number is (714) 366-5485 and I can also be reached at kevin.short@orsnasco.com. I'm thrilled to be a part of this industry and endeavor to collaborate with as many as possible who are interested in the health and growth of wholesale distribution."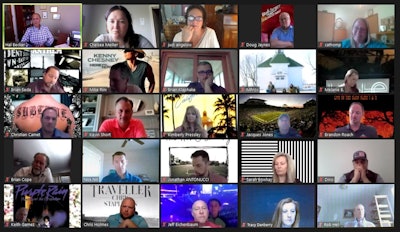 "Everyone has had to adjust their communication styles and rhythms," Short added about ORS' internal pandemic response. "I could not have imagined how valuable and effective videoconferencing would turn out to be. I'm traveling every week, but we are prepared to communicate in whatever method(s) work best for our partners."
While COVID-19 has made the outlook for any industrial supplier murky at best, pure play wholesalers like ORS Nasco are positioned to benefit from independent distributors looking for assistance as the pandemic figures to disrupt industrial supply chains well into 2021. With Oct. 18 marking one year since ORS became an independent company, the wholesaler is looking forward to closing out 2020 strong and hitting 2021 with momentum.
"I could not be more optimistic about our forward-looking agenda," Short said. "The board of directors have been tremendously supportive, and we are not letting COVID 19 slow us down. Moving into 2021 and beyond, we will strengthen our core business with strategic partnerships via M&A, commit capital investment and continue to drive expansion and portfolio diversification to include new channels, categories and service offerings."