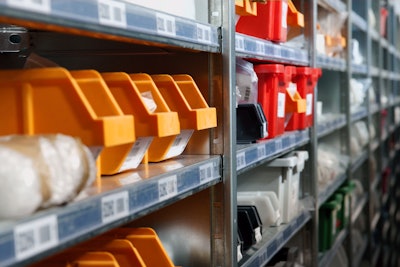 This article appeared in the March/April print issue of Industrial Distribution. To see the full issue, check out the digital edition here.
When it comes to service, distributors are constantly challenged to improve their strategic position and offer their customer base a wide range of valuable opportunities. According to ID's 2014 Survey of Distributor Operations, half of all distributor respondents said they were offering vendor managed inventory (VMI), and one in four identified VMI as one of the primary reasons that their customers do business with them.
It's clear that VMI is increasingly becoming a basic business standard, and yet not all programs are created equal. According to E2open – a provider of cloud-based, on-demand software that enables automated execution of VMI processes across suppliers, logistics providers, and customers – an inventory process can become a competitive advantage if the manufacturer or distributor can maintain a high level of visibility of its goods at a customer's location through extensive and timely information sharing.
Translation: this process can thrive with attention to detail, but it's not for the faint of heart.
VMI for the Large and Small Distributor
Some of the industry's largest MRO suppliers have established a solid footprint of capabilities in VMI, not the least of which is NC–based MSC Industrial Supply Co.
"At MSC we consider accuracy, efficiency, productivity and profit to be the key benefits when you add expertise to a vending solution," explains Douglas Jones, Chief Supply Chain Officer. "To gain that value, it takes supply chain expertise to diagnose a manufacturer's needs, and develop a smart vendor managed inventory system that can improve operational performance and output, help a manufacturer save time and money, and get products to market faster."
For MSC, "smart" VMI is what it's attempted to establish with its ControlPoint brand, a solution set that also offers vending solutions that are modular, configurable, flexible and offer a web-based dashboard view of a customer's production inventory. The company starts with a five step process designed to help ensure they tailor a vending solution configured to meet the needs of a customer's business, based on how they operate and what they want to accomplish. Kicking off the process is a free inventory management assessment. These assessments are oftentimes what it takes to provide the customer with the kind of visibility they need to understand the return.
Grainger has also funneled major effort towards educating the end user as to how to accurately view their MRO inventory – as a cost center rather than an emergency stockpile. Kevin Hartler – Senior Director, Consulting Services for Grainger, explains the real dollars at stake: "We know that the average cost to buy an item is around $75. The reason that's important is that it's the time and effort. If you think about a process being $75 in cost, people and time to buy a $10 hammer, it doesn't seem like it's balanced well, and we're probably not getting a return. So what we want to think about is how to help companies do that better." The other part, adds Hartler, is that when people buy items and put them in stock, half of the items never get used. Essentially this makes the average MRO inventory an asset with half the value of what it costs in product price alone, not to mention the additional "people and time" elements.
Grainger has developed its own product around inventory management – KeepStock – which offers the choice of CMI (customer managed inventory) solutions or GMI (Grainger managed inventory).
According to Grainger, CMI is a great choice if the customer is looking to self-manage their own inventory with solutions designed to help them better identify, organize and order product. Users maintain complete control over all aspects of managing and ordering inventory, and an all-in-one app allows users to scan barcodes, search catalogs, and view and confirm orders right in the palm of their hand. The GMI option takes some of the work off the customer's plate, and allows for a Grainger Inventory Management Specialist to take care of all aspects of the inventory and ordering process – helping to keep inventory levels wherever the user sets them, only replacing the products that have been used, and performing spot buys and product put-away.
For those distributors who don't have the same footprint as these bigger companies, VMI can still provide significant value on a smaller scale. For the Midwestern distributor of cutting tools, Updike Supply, VMI can be as simple as taking the complexity out of the re-ordering process for its customers.
"Updike Supply's inventory management solutions, using our proprietary systems and processes, can ensure you an uninterrupted supply of product," explains company president Steve Short. "In order to achieve the greatest possible efficiency and the lowest total cost, you must have meaningful, accurate data with which to make decisions and then measure the results."
Updike's proprietary spend analysis tools identify and track detailed usage data in order to develop cost reduction priorities and report specific key customer metrics such as cost per piece produced. Updike's SimplScan is a smartphone-based app that scans QR codes and seamlessly emails orders to Updike with pre-determined order quantities. Ultimately, Updike's take on VMI is simply an extension of its existing customer service proposition. Says Short, "Our approach centers on understanding what the customer perceives as value and then developing value added solutions to satisfy each customer's specific needs."
Regardless of company size and scope, perhaps the most critical element to making VMI work is to provide as much up-front planning as possible – this includes defining the objective and scope of the service in order to assure the customer's expectations are in line with what will be offered.
Industrial Vending Solutions
If VMI has an elephant in the room, it's most certainly the vending machine – no discussion on VMI would be complete without it. This piece of equipment has become increasingly ubiquitous on factory and warehouse floors over the years, as evidenced by vending pioneer Fastenal's claim that it has installed tens of thousands of its FAST machines in customer sites to date. In fact, as Jack Keough reports on page 16, vending now comprises about 40 percent of sales for Fastenal, a $3+ billion distributor.
For MSC's Jones, vending gives end user companies the visibility to track and optimize tooling and MRO inventory; drive productivity with secure, 24/7 tooling and MRO access; eliminate stock-outs and keep lines up and running; reduce consumption, streamline supply chains, and reduce operating costs to improve profitability. "If we can help a customer make sure products are on the shop floor when they need them," he adds, "customers see real business benefits that come from working with a solutions provider like MSC. We're finding that because the market is changing so fast, no company is an island anymore and you have to count on partners to compete successfully."
For some smaller distributors, the ability to provide vending solutions can be a bit pie-in-the-sky due to the cost and resources required to buy, install and maintain the machines themselves. Since these are so popular with customers, some independents are forced to get creative with their VMI offerings if vending is not in the cards.
Benefits for the Distributor
MSC also stresses the business benefits for distributors who utilize VMI within their own operations and Jones says the company "strongly believes that distributors should use inventory management solutions, including VMI, to effectively manage their own business operations." In fact, MSC has a long history of leveraging software and technology to help identify opportunities to further refine its own inventory management processes and achieve greater efficiencies. "That's how we went from a $1 billion to a $2 billion distribution operation just a few years ago, to $3 billion today," says Jones.
As an internal best practice, MSC has partnered with a number of third-party logistics providers to implement solutions that integrate with MSC's systems, allowing for data exchange in real time and enhanced productivity, internally. "It has also enabled our company to transition from looking only at our internal data to a broader set of data that we can exchange with our customers."
From an external perspective on VMI – the business case for offering VMI, besides the obvious customer benefits, can come down to establishing a more prudent method of predicting demand.
"From the suppliers' point of view, VMI enables them to capture upside demand so they can increase market share, revenue, and sales because they're not losing a sale to a competitor," explains Rich Becks, General Manager, Industry Value Chains for E2open. "They can also level-load their production and make it more linear by allowing the buffer to serve as a shock absorber to the shifting demand patterns. In addition, from a capital utilization perspective, suppliers like VMI, as this makes good use of that capital by allowing for a high utilization rate."